Jessie J Left In Tears While Picking Final Acts For Her Team On The Voice UK
3 June 2013, 12:12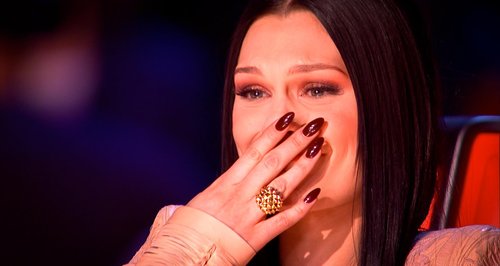 The 'Wild' singer was visibly upset while picking who to take on to the live shows for The Voice UK.
Jessie J was seen breaking down in tears on The Voice UK last night (2nd June) as she was forced to pick her final two acts for this year's live shows.
The 'Domino' singer picked Ash Morgan to automatically progress to the final stages of the competition, but found herself stumped when deciding who to pick out of contestants Sarah Cassidy, Danny County and Trevor Francis.
Jessie was seen being visibly upset while pressed for a decision by host Holly Willoughby and asked for advice from both the audience and her fellow judges will.i.am, Danny O'Donoghue and Tom Jones.
"I'm so proud. I don't even know. I need some guidance," Jessie explained, with tears in her eyes. "Danny up until this point you were one of the strongest acts in this competition.
"Sarah I was blown away by your performance and I cried. Trevor I loved it, so well done," she continued. "Danny I was going to take you through, but I'm not going to put you through because I don't think that was the best voice, I'm being real with you.
"I'm going to go with someone who deserves to right in the lives, the winner is Sarah," Jessie revealed, before adding: "That was the hardest thing I've ever had to do."
Check out a picture of Jessie J performing live on stage at the Chime For Change concert over the weekend below (Credit: PA):
Jessie J's team now consists of hopefuls Ash Morgan, Sarah Cassidy and Matt Henry with The Voice UK quarterfinals kicking off this Friday 7th June.
Both Jessie J and fellow vocal coach will.i.am are set to perform live at the Capital FM Summertime Ball 2013 this Sunday (9th June) at Wembley Stadium.