Jessie J Responds To Fan Comments About Bikini Pictures: "Be Happy And Healthy!"
20 January 2014, 12:41 | Updated: 20 January 2014, 13:31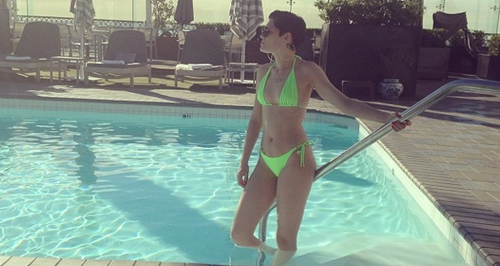 The 'Wild' singer urges fans to live a healthy lifestyle but not focus on being "skinny".
Jessie J has issued a plea to all of her younger fans to live healthily and to "be happy" and "be strong".
The 'Thunder' singer posted the comments after reading comments some fans posted about her recent stream of bikini pictures during her stay out in Los Angeles at present.
"To all the YOUNG girls commenting on my bikini picture, I am constantly trying to GAIN weight," Jessie tweeted this week. "And as a naturally slim woman at 5 ft 9 I am trying to be an example to any young girl similar to me that being stick then is NOT good nor hot!
"I eat what I want in moderation," she continued. "I am not skinny I am slim. I have meat on my bones and I want more!
"I have never dieted but been healthy and aware that being fit is for life not for Instagram or looks!" Jessie explained. "I work hard to be fit and it's not easy but it's IMPORTANT! For my career and for me!
"But everybody is different. What I have to do is different to what someone else would have to do to be HEALTHY!" She added. "Let your aim to be strong and not a stick.
"To be happy and not skinny, and be healthy and BE YOU!"
Jessie J recently revealed she has already recorded five brand new songs in Los Angeles, while she works on the US edition of her album 'Alive'.