Jessie J: 9 Live Performances Where She TOTALLY Stole The Show
18 November 2014, 14:07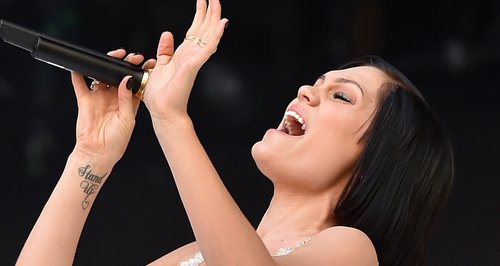 As Jessie prepares to make her return to the Jingle Bell Ball this December, relive some of her greatest ever live performances in our playlist feature.
Jessie J is a true favourite at Capital and she's returning to the stage for us once again this December at the Capital Jingle Bell Ball 2014 with Morrisons.
The 'Bang Bang' superstar is well known for her incredible pop songs and unquestionable charisma, but it's her pitch-perfect live performances that have earned her accolade after accolade in the industry.
Check out nine of her best EVER performances in the playlist below and see for yourselves just how incredible the live Jessie J experience is before she hits London's O2 Arena on Sunday 7th December for the #CapitalJBB.
1. 'Stay With Me' (Live Capital Session, 2014)
Jessie stopped by Capital HQ earlier this year to celebrate her return with the summer anthem 'Bang Bang', and treated us to an amazing live session... which included this hauntingly brilliant cover of Sam Smith's Vodafone Big Top 40 number one 'Stay With Me'. Enjoy:
2. 'Price Tag' (Isle Of Wight Festival, 2012)
Let's take it all back to the early days of Jessie J's pop career to 2012 when she brought the party along with her to Isle Of Wight Festival to perform fan-favourite hit 'Price Tag'. Cue EVERYONE in that crowd singing along with Ms. Cornish!
3. 'Calling All Hearts' (Capital Summertime Ball, 2014)
Back up to today it's time to appreciate Jessie J's fist-pumping live performance from Wembley Stadium this summer when she played DJ Cassidy's 'Calling All Hearts' live for the Capital Summertime Ball crowd... alongside special guest Nathan Sykes!
4. 'Wild' (Capital Summertime Ball, 2013)
From the rousing chorus to the pitch-perfect vocals and a stage presence that can't be matched, Jessie J was spot on when she brought 'Wild' to life for the Capital Summertime Ball back in 2013.
5. 'Nobody's Perfect' (One's Agit8, 2013)
Yes, it's true, nobody's perfect. But Jessie J sure comes close with this moving performance of one of her trademark hits back at One's Agit8 charity event in 2013.
6. 'Who's Laughing Now' (V Festival, 2011)
Nobody was laughing... but they were ALL dancing when Jessie performed her party anthem at V Festival way back in 2011. And it still sounds JUST as good three years later!
7. 'Domino' (The X Factor USA, 2011)
It's one of Jessie's most popular tracks and this performance of the song, on The X Factor USA three years ago, cemented the UK star as one to watch on BOTH sides of the Atlantic.
8. 'Thunder' (Royal Variety Performance, 2013)
When it comes to emotional, moving performances, it doesn't get much better than Jessie's 2013 appearance at the Royal Variety Show where she brought 'Thunder' to life and a tear to the crowd's eyes.
9. 'LaserLight' (Rock In Rio, 2014)
The party was going off ALL night at Rock In Rio this year, and Jessie didn't let the incredible crowd down with her 'LaserLight' performance being one of the highlights.
Which was your FAVOURITE live Jessie J performance? And what songs do you want the 'Burnin' Up' star to perform live at the Capital Jingle Bell Ball 2014 with Morrisons come 7th December?
You may also like...