Watch Demi Lovato Absolutely SMASH 'Bang Bang' On Stage With Jessie J
4 December 2014, 11:19
The 'Skyscraper' singer took on Ariana Grande's verse in a surprise cameo on Jessie's smash hit song.
If you thought the original Jessie J, Ariana Grande and Nicki Minaj version of 'Bang Bang' was amazing, prepare to have your mind blown as Demi Lovato takes on the smash hit.
Demi was a surprise guest for Jessie's performance at the '2014 Triple Ho Show' in California last night, coming out with her on stage to perform Ariana's verse of 'Bang Bang'.
Both ladies were on the bill to perform on the night, but they kept the fact they would be performing together under wraps until the last minute – and judging by the screams from the crowd, they were pretty pleased with Demi's impromptu duet!
Jessie tweeted an Instagram clip of their performance captioned, "WOW!!! @ddlovato is a dream to be on stage with!!! Thank you girl!!! You sang yo ass off!!! #bangbang @997dolphin @997now #triplehoshow"
Jessie also posted a cute snap of the pop powerhouses backstage captioned, "been wanting to sing with you forever! Tonight was special @ddlovato #triplehoshow #sanfran #bayarea @997dolphin"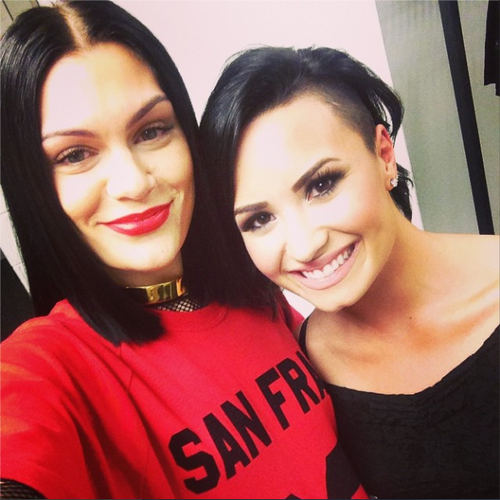 Demi was also pleased to share the stage with Jessie, tweeting:
... That just happened..... Thank you SO much @JessieJ for having me on stage for Bang Bang... It was an honor!

— Demi Lovato (@ddlovato) December 4, 2014
So ladies, you've seen the reaction from the crowd – surely a joint song is the only sensible option now?! Please?!
Jessie J is just one of our INCREDIBLE acts playing the Capital Jingle Bell Ball 2014 with Morrisons on the weekend of the 6th and 7th December, alongside other AMAZING artists like Taylor Swift, Take That, OneRepublic, Ed Sheeran and 5 Seconds of Summer.
The #CapitalJBB is now SOLD OUT but keep it Capital in the lead-up to the Ball for your chance to win tickets to the big show!
You May Also Like…