EXCLUSIVE: Jessie J On Ariana Grande Diva Claims: "She's A Sweetheart!"
15 October 2014, 12:32 | Updated: 22 October 2014, 15:17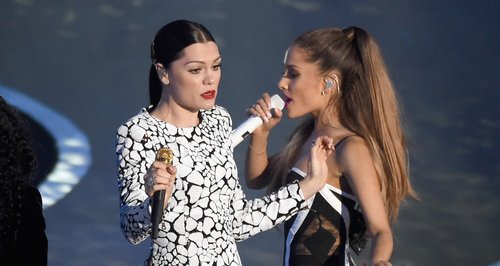 Capital catches up with Jessie J to talk about her mate Ariana - and those nasty diva claims!
Jessie J has spoken out in defence of her friend Ariana Grande over recent claims of "diva" behaviour from the 'Problem' star, insisting that the US singer is "super-talented" and "a sweetheart".
The 'Burnin' Up' star recorded her hit 'Bang Bang' with Ariana over the summer, and called in to speak to Max on her show this week where she put paid to the diva rumours.
Jessie J on Ariana Grande "diva" claims...
"I know how it feel to have people say stuff about you that isn't true," Jessie exclusively told Capital's Max on her show last night (14th October). "I would never say anything if I hadn't met her, but I have met her and I've hung out with her and I've worked with her.
"She's 21 years-old and until you've lived the life that she's living you can't understand how hard it is," Jessie explained. "And there's a very thin line between diva and survival and especially, as a woman, I have to stick up for all of us. It gets really tough.
"And people mistake passion for rudeness. And it's not. She's not," Jessie added. "She's a sweetheart, she works very hard, she's super talented. And her live is crazy, and she's trying to be a teenager!
"I think everyone needs to put themselves in her shoes and understand how amazing she's doing."
Jessie J is celebrating this week after the successful launch of her brand new album 'Sweet Talker'.
Keep it Capital every Monday to Thursday from 10pm and Sundays from 7pm for Max's show.
You May Also Like…