Jay-Z Confesses His Sins In Explosive 'Family Feud' Video That's Got The Internet Shook
29 December 2017, 16:38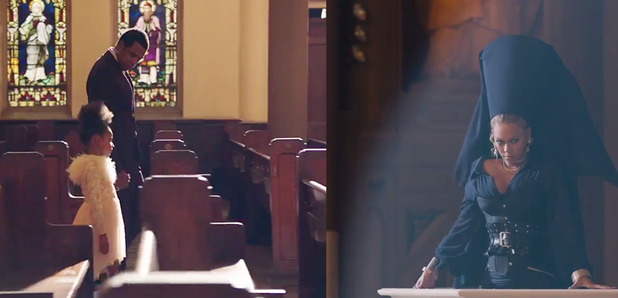 This video will definitely be breaking the internet.
Jay-Z could be about to drop the realest music video of his career with this new teaser for his single 'Family Feud.'
Just a few weeks ago, Hov opened up about his infidelity and admitted that he did step out on his marriage, and now we could be about to see how the drama unfolded in real time.
Okay, okay, maybe not in real time but in a very convincing music video, nonetheless.
.@S_C_'s "Family Feud" x 12/29 x @TIDAL: https://t.co/zrWz0UN8tF pic.twitter.com/Rrrzp5Ahn0

— Roc Nation (@RocNation) December 28, 2017
In a video shared on the music mogul's streaming service Tidal, the short teaser clip features Beyonce dressed very grand and their five-year-old daughter, Blue Ivy, and the family are seen in a church.
Between scenes of Jay-Z in a confession box and Beyonce glaring her husband down, we can see explicit clips of a man and a woman kissing and we're going to take a wild guess and say that the man is supposed to be Jay-Z.
One thing's for sure, we CANNOT wait for the full thing. The full video will be out today Friday 29th December on Tidal.
While you're here, watch Ed Sheeran reveal what it's really like to work with Beyonce...