WATCH: Harry Styles Surprised Fans By Performing A Vintage 1D Song Solo For The First Time Ever
10 May 2017, 12:27 | Updated: 8 June 2017, 10:08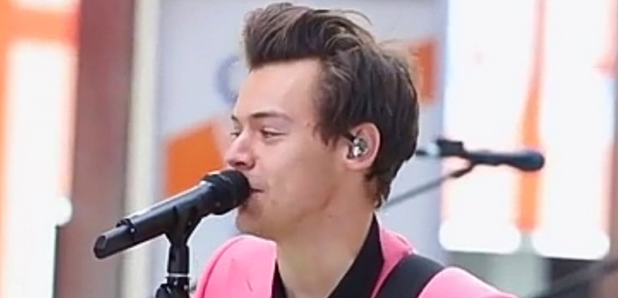 The crowd reaction to this is actually unreal!
As any fan will tell you, One Direction are not over - they're just on a hiatus.
Whilst we've heard various members of the group talk about the band getting back together at some point in the future, Harry Styles gave us the biggest hint yet that 1D are still very much in his mind.
Yes, Harry Styles did just perform One Direction track 'Stockholm Syndrome' to a crowd of screaming fans in New York. We know...we're pretty shook too tbh.
Harry became the first 1D star to perform one of the band's tracks as a solo artist and he absolutely nailed it. The song was featured on 1D's 2014 album 'Four' and Harry sang all the lads parts, including former band member Zayn's.
We thought his pink suit would probably be the biggest talking point but then he went and dropped this on us!
It's fair to say that fans were pretty pleased with what they heard...
my favorite cover is stockholm syndrome by harry styles originally by one direction

— g h (@sgfgiselle) May 10, 2017
Someone:" one direction are never coming back together. It's over"

*Harry Styles singing Stockholm Syndrome*

Harry: pic.twitter.com/fYFD8Js6Qu

— NooR (@Hazlover_NH) May 9, 2017
HARRY STYLES SINGING STOCKHOLM SYNDROME HARRY STYLES SINGING STOCKHOLM SYNDROME HARRY STYLES SINGING STOCKHOLM SYNDROME HARRY STYLES SINGING

— peschk (@CARAMELNIAM) May 9, 2017
HARRY STYLES WEARING A PINK SUIT AND HARRY STYLES SINGING STOCKHOLM SYNDROME. I THINK HARRY STYLES WANTS ME DEAD

— bianca 207 (@AFLMendes_) May 9, 2017
Harry, Niall and Louis are all enjoying the success of their respective solo projects atm and with Liam's music rumoured to be released in the near future, it's a seriously exciting time for Directioners.
You may also like...