Fuse ODG Got The Jingle Bell Ball Crowd On Their Feet And Dancing With His Hits
7 December 2014, 18:56 | Updated: 7 December 2014, 19:20
Fuse brought his infectious beats to London's O2 Arena for his debut Jingle Bell Ball performance.
Fuse ODG brought the Ghanaian flavour to London's O2 Arena for his incredible performance at Capital's Jingle Bell Ball with Morrisons - and the crowds were on their feet for his entire set.
Fuse opened his set with his first single 'Antenna' and his backing dancers made sure everyone was up and dancing just like the routine in his brilliant music video.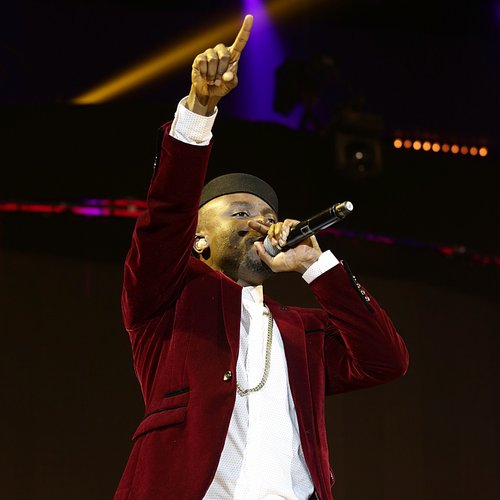 Fuse even joined his dancers for an impromptu breakdown mid song - sometimes you just HAVE to dance when the mood takes you! We've never seen someone lift their legs up quite like Fuse!
Fuse's next track 'Million Pound Girl' was another crowd favourite - those afrobeats were VERY hard to resist! Mr ODG looked rather dapper in a red velvet blazer as he entertained 16,000 Jingle Bell Ball audience members with his addictive beats.
'T.I.N.A' was definitely a favourite with the crowd as Fuse performed his newest single - and brought out Angel as a guest vocalist to help him perform his latest Vodafone Big Top 40 top ten hit.
Fuse told the crowd he was representing Africa at the Jingle Bell Ball this evening as he launched into 'Dangerous Love'. With confetti cannons raining down on the crowd, Fuse made sure everyone was in the party spirit after his performance at Capital's Jingle Bell Ball.
Fuse couldn't wait for his first ever Capital Jingle Bell Ball performance:
o2 Arena show today repping New Africa, can't wait #CapitalJingleBellBall #JBB #TINA http://t.co/ILtwlOFehM

— Fuse ODG (@FuseODG) December 7, 2014
The fans were loving Fuse's performance:
@CapitalOfficial @FuseODG is rocking this stage! #CapitalJBB

— DannyStobo . (@DannyStobo_) December 7, 2014
Gotta love @FuseODG

— Tia purkiss (@Xtialouise) December 7, 2014
@FuseODG was pure magic on the #JBBStage #CapitalJBB x

— Chloe Wilde (@Typicool_chloe) December 7, 2014
@CapitalOfficial #JBB @FuseODG Perfect night bringing Africa in the room

— SAPHIA (@saphiasingleton) December 7, 2014
Check out Fuse ODG's full set list for Capital's Jingle Bell Ball with Morrisons below:
'Antenna'
'Million Pound Girl'
'T.I.N.A'
'Dangerous Love'