Eminem - 'Rap God' (Official video)
27 November 2013, 18:15 | Updated: 27 March 2017, 16:31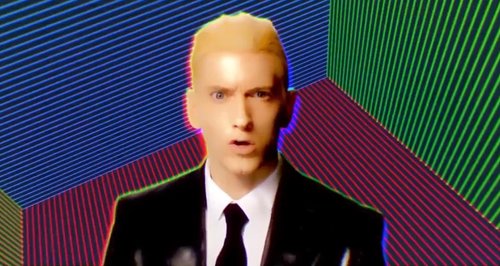 Watch as Slim Shady unveils the promo to the track from his album 'The Marshall Mathers LP 2'.
Eminem has released the official video for his Vodafone Big Top 40 top ten hit single 'Rap God'.
*Warning, this video features strong language and material which may cause offence*
[[ This video has been removed ]]
The track is lifted from his recently released studio album 'The Marshall Mathers LP 2'.
The video was directed by Rich Lee, who has previously worked with the rapper on 'Not Afraid' and 'Lighters'.
It was filmed at the Russell Industrial Centre in Em's home city of Detroit.
Em channels the 80s TV character Max Headroom as well as getting plugged into a machine before awakening to deliver his devastatingly face rap verse towards the climax of the track.
'Rap God' is available to download right now.