Eminem Filming Music Video For 'Headlights' With Spike Lee
7 April 2014, 10:57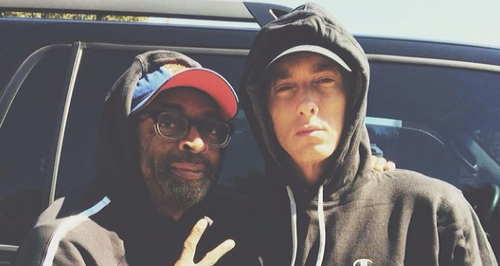 The rapper shares an Instagram shot of himself with the famed director.
Eminem has been seen filming a new music video for his track 'Headlights' with esteemed director Spike Lee.
The pair shared a picture on set of the promo during the shoot in Detroit.
The song features some of the rapper's most emotional lyrics as he pays tribute to his mum – who he has famously endured a tempestuous relationship with over the years.
He sings: "And I'm mad I didn't get the chance to thank you for being my Mom and my Dad/ So, Mom, please accept this as a tribute I wrote this on the jet."
The song was co-written and also features a chorus by Fun. frontman Nate Ruess.
The song is taken from the album 'The Marshall Mathers LP2' which was released back in November last year.
You may also like...