Drake Vs. Meek Mill: Everything You Need To Know About 2015's Biggest Fued
5 August 2015, 17:46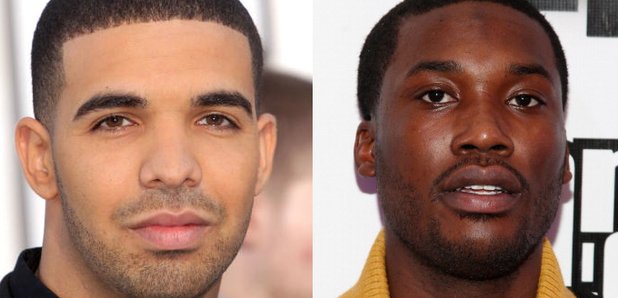 There's been more back-and-forths than the Wimbledon finals, but we've managed to recount every key point of the biggest beef of the moment!
Forget Cheryl F-V and Louis Walsh, there's some SERIOUS beef going down right now in the rap world between Drake and Meek Mill.
With shots being fired (figuratively) every few hours, it's hard to keep up with what's going down - so we've listed everything you need to know in one handy guide.
22nd July 2015
Things all kicked off late last month when it emerged that Drake had used a ghost writer for some of his raps. Meek Mill wasn't too thrilled and, like most celebs these days, took to Twitter to vent his anger.
Stop comparing drake to me too.... He don't write his own raps! That's why he ain't tweet my album because we found out!

— Meek Mill (@MeekMill) July 22, 2015
Even Tesco chimed in on the drama #bants
Hey Drake, we've got some ready-made wraps too… pic.twitter.com/wprts9aBdN

— Tesco (@Tesco) July 22, 2015
But for once, Chris Brown was relieved that the drama was surrounding someone else for a chance, with this (now deleted) Instagram post.
25th July 2015
Drake's mysteriously quiet for a few days... until his first (of many) diss tracks, 'Charged Up', drops.
Meek Mill responded later that night calling the diss "baby lotion soft".
Baby lotion soft......

— Meek Mill (@MeekMill) July 26, 2015
26th July 2015
Meek Mill responds to Drake's diss live on stage, where he's the support act for girlfriend Nicki Minaj on her The Pinkprint tour.
29th July 2015
Drake comes back with ANOTHER diss track aimed at Meek Mill. 'Back To Back' includes a not so subtle reference to Meek being the support act for his girlfriend; "You love her then you got to get a world tour, is that a world tour or your girl's tour?"
30th July 2015
After days of hype and speculation, Meek Mill's rebuttal diss FINALLY makes an appearance. (WARNING: Track contains strong language, obvs...)
Judging by his Instagram response, Drake wasn't that hurt.
3rd August 2015
After a few days of silence, Drake emerges at OVO Fest wearing a "Free Meek Mill" teeshirt - which he famously wore a year earlier when Meek Mill was in jail. We're pretty sure that it was worn a little more ironically this time around.
So Drake is wearing a Free Meek Mill shirt at OVO Fest and he gave him a participation award for "Wanna Know" pic.twitter.com/NKgaY6aRK4

— Shaynahhhh (@NahNahBad) August 4, 2015
He even dropped ANOTHER diss track (you keeping up?) called '3peat' live on stage.
Fam. Fam. Fam. Fam RT @TimmyOVO: 3 PEAT pic.twitter.com/PFsAvg9yi9

— LowKeyUHTN (@LowKeyUHTN) August 4, 2015
If that's not enough, Drake managed to totally humiliate Meek Mill with a serious of memes during his live performance of 'Back To Back'. Epic!
4th August 2015
Ding ding! Next round! Meek fires back at Drake with a new diss track - again whilst supporting Nicki on tour, but this time he even pulled out Li'l Wayne & Tyga. We'd find it a little more serious if they hadn't threatened to give Drake a wedgie...
Clearly the threat of having his pants pulled all the way up didn't scare Drizzy - later that night, a video emerged him laughing off Meek's diss with none other than Kanye West and Will Smith!
Damn even Will Smith clowning Meek pic.twitter.com/Ka17JSSMIy

— ITSBIZKIT (@itsbizkit) August 4, 2015
The End?
Phew. That's a LOT of beef for one day! We're still placing bets on who'll be the next to drop a diss track, or post a mocking meme.