Drake And Eminem Just Turned Their Rumoured Beef Into A Blossoming Bromance On Stage
17 August 2016, 13:48
You can literally feel the love in the room people!
There was a rumour doing the rounds recently about a beef between Drake & Eminem.
After comments by a DJ in New York, the internet was full of talk about potential diss tracks surfacing.
Fans were concerened that two of their favourite artists might go head to head, but the majority of people appeared to be backing Eminem in any potential battle...
Drake Got A Better Chance Battling Nick Cannon He Has No Chance With Eminem At All .

— Aug 6 #Pray4Savage (@KingSavage_96) August 8, 2016
Love drake but if he's trying to rap battle Eminem, good lord pray for his soul

— Zachery Spears (@Zach14Spears) August 8, 2016
Just for the record, Eminem will eat Drake alive in a rap battle. Hands down.

— † Ameer's World † (@7thHouse_) August 8, 2016
If anyone thinks Drake could really beat Eminem in the rap game, please rethink your decision.

— caine thron (@CainyeWest) August 8, 2016
And it seems as though Drake is in full agreement with pretty much everyone else as he just brought Slim Shady out on stage at his show in Detroit.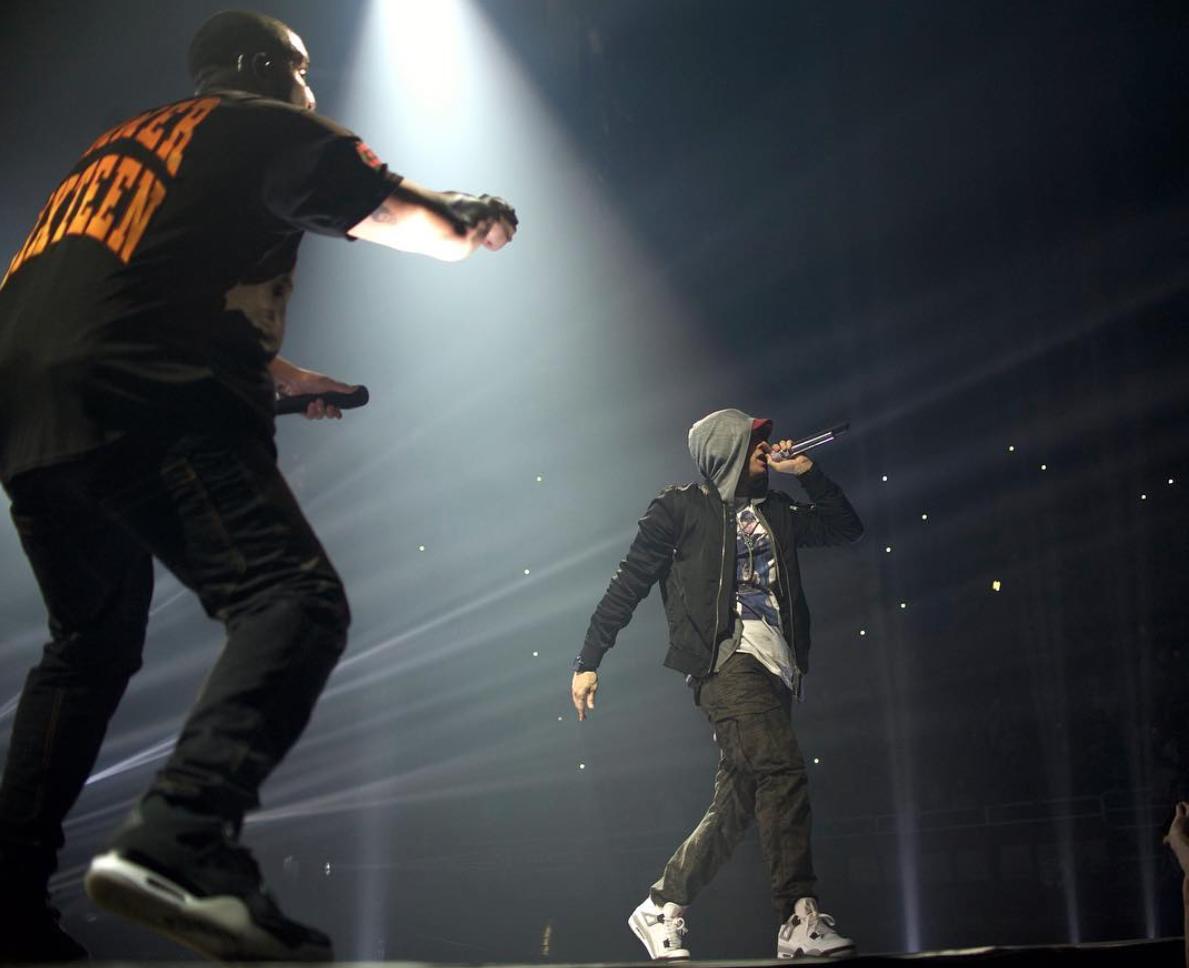 Picture: Instagram
Can we all just take a moment to appreciate this epic entrance...
Drake brings Eminem out in Detroit to perform "Forever". #SummerSixteenTour pic.twitter.com/ylwmC3DDaB

— Word On Road (@WordOnRd) August 17, 2016
So it looks like there's no beef at all between these two after all.
But they wanted to make sure that everyone knew that they were totally cool with each other, with Drake calling Eminem 'the greatest rapper to ever get on a m***********g microphone'...
Drake concert in Detroit tonight. Brings out Eminem, says he's the greatest rapper ever. pic.twitter.com/PagnsEuLH9

— Detroit Lions Fans (@DetLionBlood) August 17, 2016
However this blossoming bromance didn't stop there.
The two then posed for a pic which Drake posted on Instagram with the caption, 'SHARED THE STAGE WITH THE GOAT FOR DETROIT. DONE THE HYPE.'
Eminem's on stage response of, 'It's an honour to share the stage with this man right here' goes even further to prove that there's absolutely zero beef between the pair.
Now all we need is a new track from these new BFFs.
Just to REALLY prove that there's no ill feeling and also make us super happy!
You may also like...