Chris Brown Recalls Moment Rihanna Met Ex-Girlfriend Karrueche Tran: "They Were Classy"
5 April 2013, 11:19
The 'Turn Up The Music' star speaks about the time all three were at the same boat party in Cannes.
Chris Brown has opened up about the moment his current girlfriend at the time, Karrueche Tran, met former flame Rihanna.
All three were at the same boat party in Cannes last year, and the 'Don't Judge Me' singer told Sway how he thought the moment could have caused drama, but complimented both female's "classy" attitudes.
"One time I was overseas in Cannes, I had a girlfriend, but I was still talking to Rihanna," he explained. [There was] a party on this big boat and my girl was there, and maybe 15 minutes later, Rihanna showed up.
"But I'm on the boat like, 'Oh, s***, what am I gonna do right now?' But you know what? They were cool. They spoke to each other and I was like, 'Woah'. I was just like, 'Please, please, please [don't start a scene]', but honestly that was the first time I can say I knew they loved me because they were classy."
The R&B star also revealed that he is still on good terms with Karrueche despite the nature of their split.
"We're cool man," he said. "I wish it could be better because of obvious reasons, but I think it's better to see her happy and successful.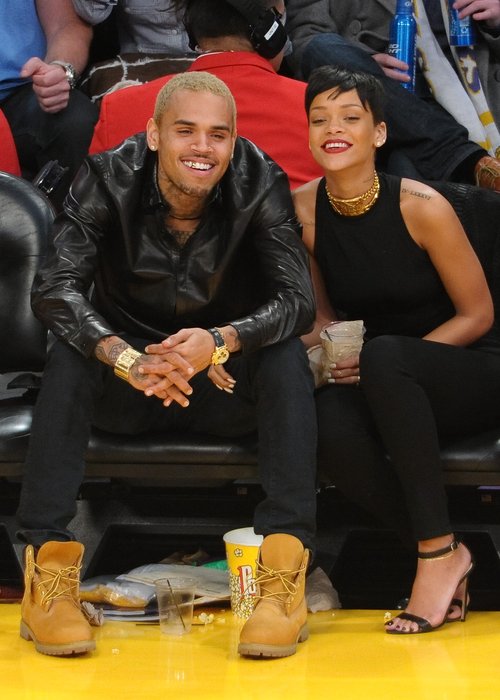 "She still does the clothing line with me, so it's still a camaraderie between us."
Chris and Rihanna have since started dating again but continue to remain tight-lipped on how they are "labeling" their relationship.
During an interview earlier this year, the Bajan star did reveal her plans to start a family and called the 'Fine China' singer "the one".