Chris Brown Takes Part In Charity Basketball Game After Recovering From Seizure
13 August 2013, 13:18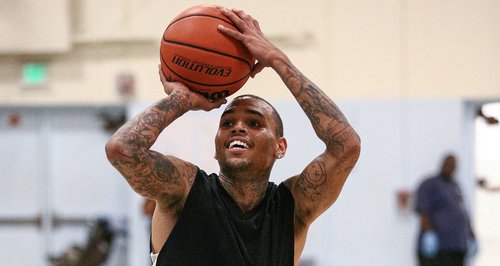 The R&B star was back to full strength this week after his health scare to take part in a charity event.
Chris Brown put on a brave face over the weekend following his seizure last week to take part in a charity basketball game against the Los Angeles Police Department.
The 'Fine China' star seemed back to full health on Sunday (11th August) while playing a game alongside a group of friends, following his health scare last Friday (9th August).
The R&B singer suffered a seizure while at Recording Plant studios in Hollywood, which his publicist Nicole Perna later claimed had been brought on by "intense fatigue and extreme emotional stress".
Chris saw a doctor but was not admitted to hospital and was back looking happy and relaxed at the charity game, to raise awareness of gang violence in the south Los Angeles community.
"Chris Brown came out today with his Team Breezy to play basketball against the LAPD team at Alain Leroy Locke College Prep Academy gym," a source told E! News after the game. "He just came out to get the community out and have some fun and try to get the message out to reduce violence."
"We have partnered with Chris Brown for about four months," Skipp Townsend from the charity Second Call added. "This is just one way he decided to give back to the community with a free basketball game."
Check out a picture of Chris Brown taking part in the charity basketball game below (Credit: Getty):
Despite his team eventually losing to the LAPD team Chris managed to scored a number of three-pointers in the game, and posed for pictures with fans after the event.
Chris Brown releases his new album 'X' on 20th August and recently hinted that he may retire from music after the launch.