More Like The Sex Factor! Simon Cowell Hires Strippers For Cheryl Cole's Birthday!
3 July 2014, 10:18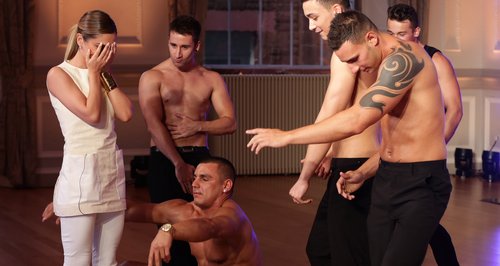 Cheryl Cole definitely has the best boss ever – who else gets naked men for their birthday delivered to their workplace?!
Picture: Syco / Thames / Corbis
If Cheryl Cole was hoping to have a low-key 31st birthday, it didn't quite work out – Simon Cowell bought her some strippers to really make the day memorable!
Cheryl got to unwrap her presents (naughty!) at the X Factor auditions in Edinburgh – the aptly named 'Highland Fling' troupe removed all but their tiny tartan thongs to the tune of 'Hot In Here' by Nelly, much to Cheryl's amusement!
A source told The Sun, "Cheryl was hiding behind her hands. She looked so embarrassed. But the other judges thought it hilarious."
Cheryl even got up and danced with the hunks, who presented her with a bunch of flowers to add to the 310 roses she received at the weekend – the girl could open up a florist with all the flowers she got this year!
Following the impromptu floor show, Cheryl went back to the judging panel and gave Simon a kiss on the cheek – looks like she liked her pressie! We know what we want for our next birthday!