Baby Payne Is Here! Cheryl And Liam Payne Confirm The Birth Of Their Son!
25 March 2017, 20:39 | Updated: 4 December 2018, 10:54
It's the moment we've all been waiting for - Cheryl & Liam's baby's arrived and we couldn't be more excited!
Congratulations are in order for Cheryl and Liam Payne - their baby was born on Wednesday 22nd March and the couple have just confirmed the news with an adorable photo of Liam holding their little bundle of joy!
Cheryl posted the snap with the caption, "On Wednesday 22nd March Liam and I became parents to an incredibly beautiful, healthy baby boy, weighing 7lb 9 and looking like a dream. Although he still doesn't have a name he is already stealing hearts. We are all madly in love and overwhelmingly happy with our little arrival. Happy Mother's Day to all the mothers around the world. A day that now has a different meaning to me forever"
Liam also posted, "My close friends and family know there are very few times when I'm left speechless... wow!
I'm incredibly happy to welcome our new baby boy into the world, it's a moment that I will never forget for the rest of my life and my favourite memory I have so far.
I'm completely in awe of his incredible mother and how she has been the whole way through this, she's really made my dreams come true. We haven't named him yet but he's already capturing hearts including mine. I feel very blessed.
Happy Mother's Day everyone!"
The news comes after the couple kept everyone guessing whether they were expecting with Cheryl finally confirming the news after she posted this on her Instagram confirming the anticipated news with her appearance in a new L'Oreal advert focusing on confidence:
Cheryl and other stars were part of the L'Oreal initiative with the Prince's Trust to help young people build self worth:
Cheryl's hairdresser Wendy Iles appeared to confirm the news in January, as she posted a video of the star behind the scenes on a new secret photoshoot - sporting an even bigger bump than before - and it looks like it was the L'Oreal one Cheryl posted on her Instagram.
The hairdresser quickly deleted the video but not before fans managed to get screen grabs of Cheryl's bump as she was styled for the photos - and it looks like she doesn't have too long left to go before welcoming the first Chiam baby into the world!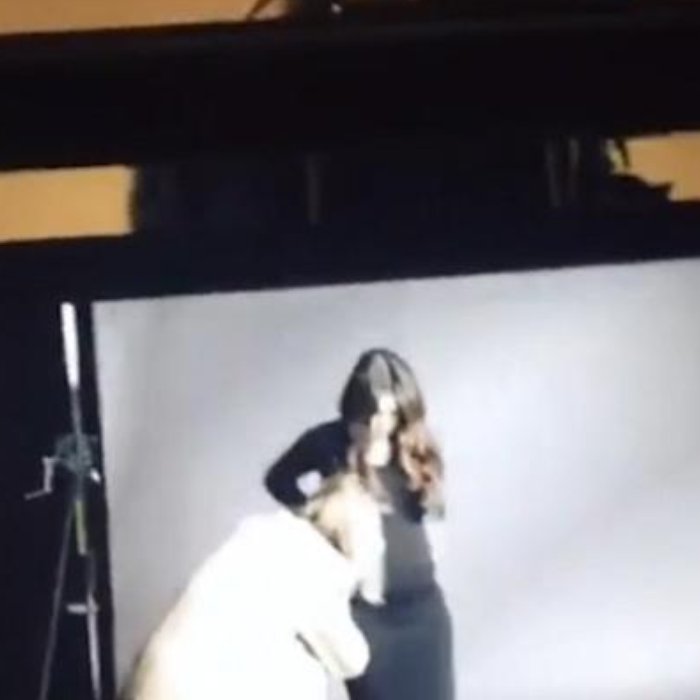 The hairdresser also posted another photo of Cheryl positively glowing and looking like she was about to burst with joy - and how lovely is it to see Chezza looking this content?
After she debuted her 'baby bump' recently, Cheryl was spotted in December visiting Kimberley Walsh to see her new arrival - and there's no mistaking that Cheryl's tum has got even bigger of late!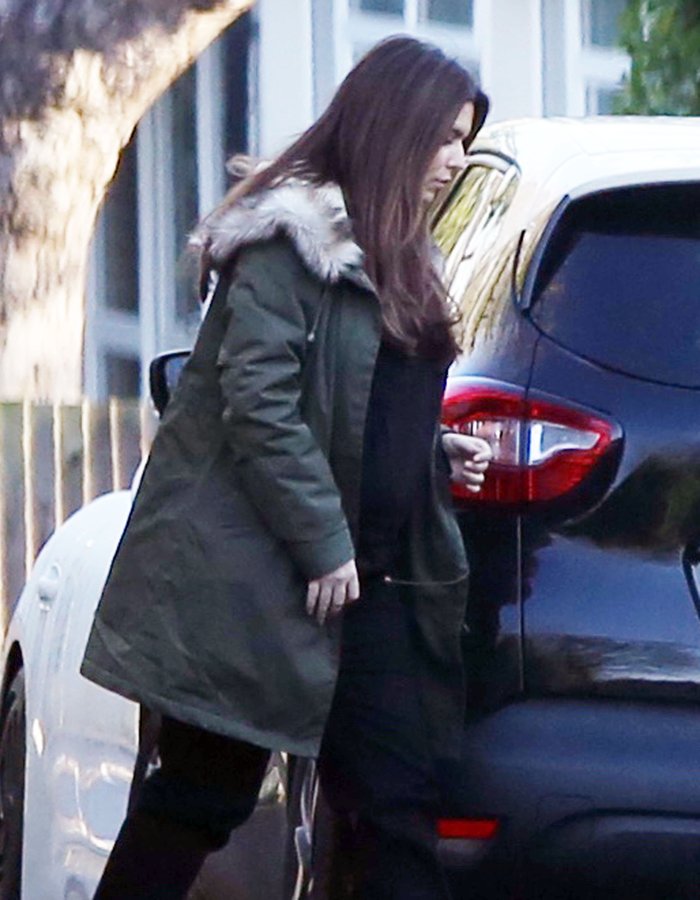 Picture: Xposure
Rumours that Cheryl and Liam are eager to start a family together have been circulating for a while - and after managing to keep a low profile and a social media near-silence for the past few months, fans were convinced that these snaps of Cheryl and Liam's first public appearance together for months appeared to show her sporting quite a large baby bump before Christmas.
Following all the talk about when they couple will announce the pregnancy, Liam's sister spoke out on Twitter and told people that it's really up to the her brother and Cheryl as to what part of their private lives they share with the public...
Bump or no bump,announced or not,it's completely up to my brother and cheryl what parts of there private lives they choose to share and when

— Roo Gibbins (@RuthPayne0990) December 1, 2016
Before he began dating Cheryl, the One Direction singer was asked in an interview about what he'd like to name his first child and his answer was Taylor.
He said, "I like the name Taylor. Taylor's pretty neutral for a boy or a girl. That's what I'm going to call my first child if I had children" - we wonder what Cheryl makes of that name then?
Fans previously commented that Cheryl had a hint of a bump visible in her jumpsuit back in May, as she'd been looking a lot healthier than her worryingly slender days during the end of her relationship with former husband Jean Bernard Fernandez-Versini.
Cheryl's PR team shared this picture of the singer on their Twitter...
SNAPPED! @cherylofficial taking a selfie in between takes on set pic.twitter.com/GqNX05DtEK

— Supersonic PR (@supersonicpr) September 22, 2016
Liam Payne also changed his Twitter bio to simply read "the luckiest man in the world" which got fans wondering whether he was alluding to his future fatherhood.
why did Liam suddenly change his bio and is like "the luckiest man" i think that Cheryl is pregnant omg

— denise (@ljpbalmain) September 13, 2016
Wait CHERYL COLE IS PREGGERS WITH LIAM PAYNE's BABY WHAAAAT

— Sana (@Ninnja_k) September 13, 2016
Rumors going around that Cheryl is pregnant w/ Liam's baby. I can't picture my baby having a baby right now, but imagine how cute he'll be.

— Liliana (@hesbeat) September 13, 2016
Then:
'Louis and Briana, having a baby'

Now:
'Liam and Cheryl, having a baby'

I'm not even ready

— Anne ll CAMERON (@Bubblystyles16) August 28, 2016
Cheryl then starred in a new L'Oreal foundation advert where fans noticed that her face was looking noticeably fuller and that she looked glowing and healthy after going through a worryingly slender phase earlier in the year.
Rumours also surfaced that Liam had been looking to his former bandmate Louis Tomlinson for parenting advice, and a source told HollywoodLife, "While Cheryl and Liam won't confirm if they are expecting a baby, Liam has been overly keen in asking Louis lots of baby-related questions of late.
"Even Louis thought it was strange himself and asked Liam if Cheryl was pregnant. Liam ducked the question, but it left Louis a little surprised that he was being quizzed about fatherhood so much."
Neither star has spoken out about any of the claims, but a source told Now magazine, "Cheryl's never been more determined to have a baby. It's like it's the only thing in the world that matters to her.
"She's never been so focused on something. Cheryl has a stash of pregnancy and motherhood books she's always reading."
It's definitely been one of the fastest-moving relationships ever - less than a year after getting together, the couple moved in together and apparently talked about having a family.
They previously shared an image of their 'new family member' on Cheryl's Instagram, but the baby talk was a whole new level.
Talking to a tabloid, X Factor boss and close friend of the couple, Simon Cowell, said, "Cheryl would be an amazing mum. I have seen her with my son Eric and other kids over the years and she is incredible. She is very good with them. I think she is in a good place in her life right now."
When asked about the reports of the pair trying for a baby, Cowell responded, "I guess that is what happens when you are with someone."
Liam and Cheryl have attempted to keep much of their relationship private since they began dating but have been open with a few close friends, such as Simon, and Liam recently sent this cheeky tweet to the Girls Aloud star.
@CherylOfficial go to sleep

— Liam (@Real_Liam_Payne) July 30, 2016
In his interview, Simon also said, "I had dinner with her a couple of months ago with Liam and they were great. I saw her the other night and she was on great form. She stays in contact on phone and text and she is good."
Cheryl's long time friend Will.i.am also added that Cheryl's happier when she's in a committed relationship, "Cheryl is the best, I love her a lot. I would like to see her happy, steady, constant. Cheryl is the kind of person who will always be happy if she has a steady foreverness."
The couple surprised the world by going public with their relationship after Liam posted a cosy snap of the pair on his Instagram - and new reports suggest it's getting pretty serious between them.
According to heat Magazine, the couple pretty much moved in together early on, with a source claiming, "Cheryl has been staying over at Liam's house in Surrey, since late January. She and Liam have practically moved in together - they even bought new furniture to make his place more homely."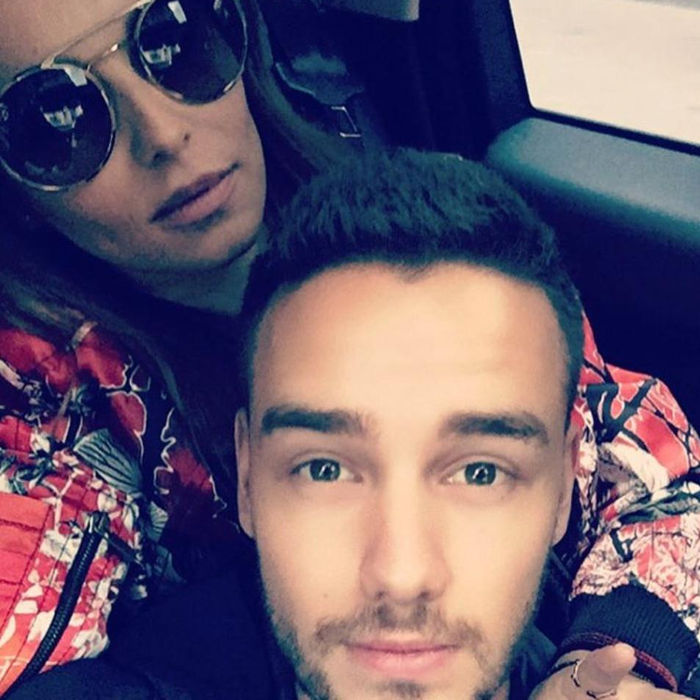 Cheryl's apparently brought her chihuahuas, Coco and Buster, along with her too - and it's not like they'll be short on space in Liam's luxury home, where he's lived on his own since splitting with his ex, Sophia Smith, back in October 2015.
Can you just IMAGINE how cute Chiam's kid is going to be?! It looks like we need to give these guys a HUGE congratulations, right now.
You may also like...