You Really REALLY Liked Carly Rae Jepsen's Set At The Summertime Ball!
6 June 2015, 20:54 | Updated: 6 June 2015, 21:59
Carly Rae Jepsen definitely had some of the catchiest tunes to get the 80,000 strong crowd singing along.
It's her first time performing solo at the Summertime Ball and it's safe to say you all knew every word to Carly's brilliantly catchy songs as she upped the excitement levels at Wembley.
Of course, we couldn't have a Carly Rae set without 'Call Me Maybe' in it - and the crowd reaction was nothing short of incredible. This girl is the queen of pop hits!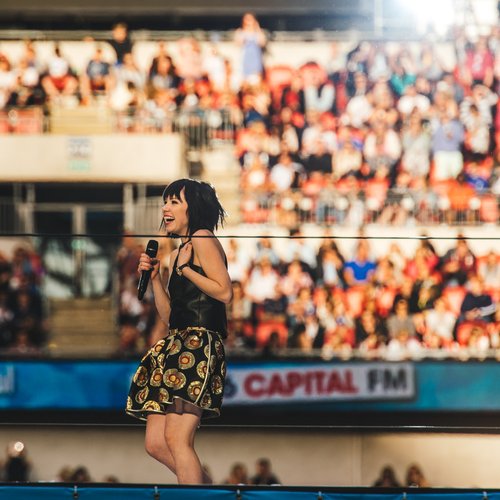 Complete with psychedelic imagery on the screens, Carly took centre stage at Wembley for her fantastic performance. Carly told the fans, "Thank you so much, it's such an honour to be here with you tonight. We're going to do a new one, it's called 'I Really Like You'."
Carly Rae Jepsen Setlist - Summertime Ball 2015
'Call Me Maybe'
'I Really Like You'
Carly got a great reaction from fans in the stadium who couldn't resist sharing their excitement on Twitter:
CARLEY RAE JEPSEN IS SINGING CALL ME MAYBE AND I AM NOT OK

— C. (@ClaudGASoldier) June 6, 2015
#SummertimeBall CARLY RAE JEPSEN <3

— Manuel (@manuel_jepsie) June 6, 2015
Is it sad that I'm seeing Carly Rae Jepsen tonight and can't wait to hear her sing I really like you....?

— Steven McBride (@McBrideeee) June 6, 2015