Carly Rae Jepsen Narrowly Misses Photographer During MLB Opening Pitch - Video
15 July 2013, 11:25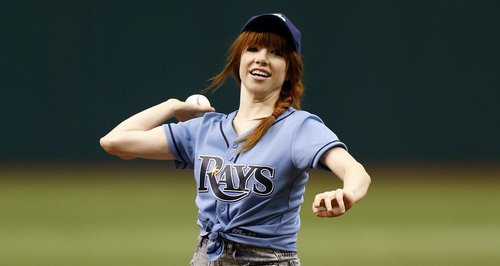 The 'Call Me Maybe' singer was taking up the honour for the Tampa Bay Rays' match in Florida this weekend.
Carly Rae Jepsen was seen narrowly avoiding hitting a photographer as she delivered the opening pitch for the Tampa Bay Rays' MLB match against he Houston Astros.
The Canadian pop star took to the mound to deliver her pitch in what the star called on Twitter a complete "fail".
"So apparently I made ESPN with my fail of a pitch. Lol- Daddy must be so proud," she wrote.
Carly wore a tiny pair of denim shorts with the team's jersey and took time to pose for pictures with fans inside the stadium.
Watch Carly Rae Jepsen's opening pitch throw for the Tampa Bay Rays below:
Meanwhile, the singer has been busy working on her new studio album and teased a "folky" new side to her music.
She also defended Justin Bieber calling him one of the hardest working stars in the business.