Cardi B's Real Name Is Not 'Cardigan Backyardigan'
30 August 2018, 16:40 | Updated: 30 August 2018, 17:24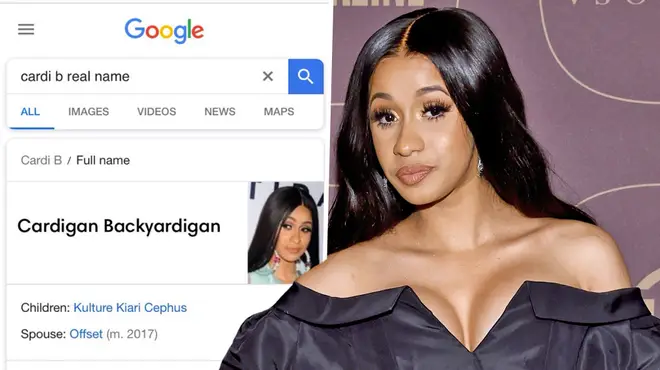 Cardi B's real name meme has wrongly claimed her real name is Cardigan Backyardigan.
Ever since rapper Cardi B burst into the mainstream back in 2017, the question about what her real name is has been on everyone's lips.
> You Won't Believe How Much Cardi B Is Charging Per Performance Since She's Had Her Baby
One place you might search is on social media, but thanks to theis Cardi B real name meme, you might actually be told Cardi B stands for Cardigan Backyardigan, which it doesn't at all.
After @ka5sh tweeted 'Cardi b full name is cardigan backyardigan' recently, the rumour began to spread far and wide and that tweet now has over 54K retweets and 200,000K likes.
Now there are plenty of people who think this Cardi B real name meme is the truth and it's causing so much confusion!
Cardi b full name is cardigan backyardigan

— ka5sh😢 (@ka5sh) August 28, 2018
Hopefully those likes and RTs are just from people who think the idea that Cardi B's name is Cardigan Backyardigan hilarious, rather than people who actually believe that it's true.
As we all know, Cardi B's real name is Belcalis Almanzar and whilst that name itself does sound pretty magical, it is in fact Cardi B's real real name.
So all these Cardigan Backyardigan rumours can chill out now.
> Download Our Free App For All The Latest Cardi B News!