Capital's Monster Mash Up: Ticket Terms & Conditions
1 October 2017, 08:00 | Updated: 11 January 2018, 11:57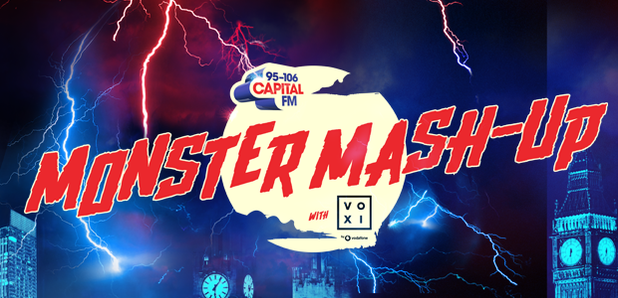 Full terms and conditions.
1. These terms and conditions (Terms and Conditions) relate to the sale of tickets by the various ticketing agencies (being, Ticketmaster, Eventim UK Limited and The Ticketline Network Limited and sometimes referred to as we) who are authorised to sell tickets on behalf of the promoter (being, Global Radio Services Limited and sometimes referred to as the Event Partner) and each of the respective venues (being, Mountford Hall, Eventim Apollo and Manchester Academy) for the events entitled Capital's Monster Mash-Up due to take place on Thursday 26 October 2017, Friday 27 October 2017 and Saturday 28 October 2017. These Terms and Conditions are to be read together with all other statements or directives either shown on the ticket or displayed at any of the venues.
2. The tickets remain the property of the Event Partner and are a personal revocable license which may be withdrawn and admission refused at any time upon refunding the printed purchase price. You, as the ticket holder, represent and warrant that the ticket is purchased for personal use only, and that it is not purchased as part of any form of business or commercial activity (save as expressly authorised by the Event Partner and its agents) and in particular, that the ticket may not be resold or offered for resale by anyone whether at a premium or otherwise and may not be used for advertising, promotion (including contests and sweepstakes) or for any other trade purposes. Resale or attempted resale at a price higher than that printed herein is grounds for seizure or cancellation without refund or other compensation. The Event Partner and its affiliates, successors, or assigns may enforce these terms in accordance with the provisions of the contracts (Rights of Third Parties) Act 1999 (the Act). Except as provided above, this agreement does not create any right enforceable by any person who is not a party to it under the Act, but does not affect any rights or remedy that a third party has which exists or is available apart from the Act.
3. It is your responsibility to check your tickets; mistakes cannot always be rectified.
4. It is your responsibility to ascertain whether an event has been cancelled and the date and time of any rearranged event. If an event is cancelled or rescheduled, we will use reasonable endeavours to notify ticket holders of the cancellation once we have received the relevant authorisation from the Event Partner. We do not guarantee that ticket holders will be informed of such cancellation before the date of the event.
5. We regret that tickets cannot be exchanged or refunded after purchase unless the performance is cancelled. If a performance is cancelled, ticket holders will be offered seats at any rescheduled performance (subject to availability) up to the value of the tickets or, if the ticket holder is unable to attend the rescheduled performance or if the performance is not rescheduled, a full refund. Full refunds for tickets purchased prior to the original event will be given up to the face value of the tickets purchased. In order to claim your refund, please contact your point of purchase. You must enclose all your unused tickets. For accounting purposes this must be received within 28 days from the date of the cancelled performance. This does not affect your statutory rights.
6. The venues reserve the right to refuse admission should patrons breach any of the displayed Rules or Regulations of the venue and Event Partner.
7. The venues may on occasions have to conduct security searches to ensure the safety of patrons, refusal to allow a search to be conducted will result in non-entry to the named venue.
8. Every effort to admit latecomers will be made at a suitable break in the event, but admission cannot always be guaranteed.
9. We will not be responsible for any tickets that are lost or stolen, duplicates cannot be issued.
10. Tickets are sold subject to the each of the venue and Event Partner's rights to alter or vary the programme due to events or circumstances beyond its reasonable control without being obliged to refund monies or exchange tickets.
11. The unauthorised use of photographic and recording equipment is prohibited. Tapes or films may be destroyed.
12. Laser pens, dogs (except guide dogs) and patron's own food and drink are prohibited.
13. Neither the respective venues, the Event Partner nor the ticketing agencies accept any responsibility for any personal property.
14. The ticket holder has a right only to a seat of a value corresponding to that stated on the ticket and each of respective venues and the Event Partner each reserve the right to provide alternative seats to those specified on the ticket.
15. There will be no pass-outs or re-admission of any kind.
16. Ticket holders give their express consent to their actual or simulated likeness to be included within any film, photograph, video, audio and/or audio-visual recording in relation to the event and/or any element thereof and such film, photograph, video, audio and/or audio-visual recording to be exploited in any and all media for any purpose at any time throughout the world. This includes filming by the police or security which may be carried out for the security of customers.
17. Tickets may be restricted to a maximum number per person. We reserve the right to cancel tickets without prior notice purchased in excess of this number.
18. Neither the respective venues, the Event Partner, nor the ticketing agencies shall have any further liability beyond the face value of the ticket purchased plus the relevant per ticket booking fee.
19. Sale of alcohol – if you appear to be under 25 the venues may ask you to prove your age and apologise if this causes any embarrassment.
20. Entry – you must be 16 or over to attend these events. Please bring proof of ID.
21. Any ticket holder throwing objects, including but not limited to alcohol, glasses, etc. will be removed from the building and no refund given. Furthermore, customer details will be provided to the regulatory authorities should an offence be alleged to have taken place.
22. Smoking is not permitted in any of the venues, this includes the use of e-cigarettes, offenders will be ejected without refund.
23. Official merchandise is only available (if at all) inside the venues, please do not buy outside.
24. The Terms and Conditions are governed by and construed in accordance with English Law and the courts of London, England shall be the court of exclusive jurisdiction in relation hereto.
25. Tickets are security printed, please keep them dry otherwise they may become invalid.