Terms: German Doner Kebab VIP
29 October 2019, 13:50 | Updated: 29 October 2019, 13:52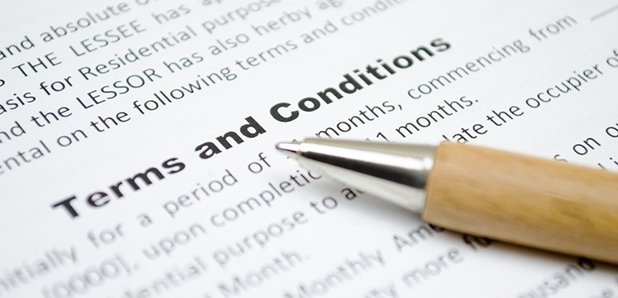 German Doner Kebab Edinburgh
PRE-OPENING VIP party night with Capital FM Scotland
16th November 2019
RULES
1. The following rules ("Rules") together with Communicorp UK ("Communicorp UK ") general and competition terms and conditions (the "Terms and Conditions") (which can be found at http://www.capitalfm.com/terms-conditions/ apply to 'German Doner Kebab Glasgow launch' radio competition ("the Competition") which will run from 31/10/19 – 13/11/2019 ("the Duration"). The "Radio Station" is Capital Scotland
2. Anyone who enters the Competition (an "Entrant") will be deemed to have understood these Rules along with the Terms and Conditions and will be bound by them. The Terms and Conditions are available on request from the Radio Station.
Details of the Competition:
3. To enter the Competition an entrant goes to capitalfm.com/ Scotland and answer a general knowledge question
4. 100 winners will be selected at random from all correct entries, on 30th September 2019
Eligibility:
5. 16's and over only
6. Employees or family of employees of German Doner Kebab are not eligible
7. Winners must be available to attend the Capital VIP party night on 16th November (anytime between 6pm and 8pm). No cash alternative available.
Prize:
100 Places + 1 to attend the Capital VIP launch event at GDK Edinburgh 16th November 6pm – 8pm.
8. Winners must be within Capital TSA – postcodes;
EH1 1
EH1 2
EH10 4
EH10 5
EH10 6
EH10 7
EH11 1
EH11 2
EH11 3
EH11 4
EH12 5
EH12 6
EH12 7
EH12 8
EH13 0
EH13 9
EH14 1
EH14 2
EH14 5
EH15 1
EH15 2
EH15 3
EH16 4
EH16 5
EH16 6
EH17 7
EH17 8
EH18 1
EH19 2
EH19 3
EH21 6
EH21 7
EH21 8
EH22 4
EH22 5
EH23 4
EH25 9
EH26 0
EH26 8
EH26 9
EH27 8
EH28 8
EH3 5
EH3 7
EH3 8
EH3 9
EH30 9
EH31 2
EH32 0
EH33 1
EH33 2
EH34 5
EH39 4
EH4 1
EH4 2
EH4 4
EH4 6
EH4 3
EH4 5
EH40 3
EH41 3
EH41 4
EH46 7
EH47 0
EH47 8
EH47 9
EH48 1
EH48 2
EH48 3
EH49 6
EH5 2
EH5 3
EH51 9
EH52 5
EH52 6
EH53 0
EH54 6
EH54 8
EH54 9
EH6 4
EH6 5
EH6 6
EH6 8
EH7 4
EH7 6
EH7 4
EH8 8
EH8 9
EH9 1
FK1 1
FK1 2
FK1 4
FK1 5
FK1 2
FK10 1
FK10 2
FK10 3
FK10 4
FK12 5
FK13 6
FK14 7
FK15 0
FK15 9
FK2 0
FK2 7
FK2 8
FK2 9
FK2 0
FK2 7
FK3 0
FK3 8
FK4 1
FK4 2
FK5 4
FK6 5
FK6 6
FK6 6
FK7 0
FK7 7
FK7 8
FK7 9
FK7 7
FK7 9
FK8 1
FK8 3
FK8 3
FK9 4
FK9 5
G 1 1
G 1 1
G 11 5
G 11 6
G 11 7
G 12 0
G 12 8
G 12 9
G 13 1
G 13 2
G 13 3
G 13 4
G 14 0
G 14 9
G 15 6
G 15 7
G 15 8
G 20 0
G 20 6
G 20 7
G 20 8
G 20 9
G 21 1
G 21 2
G 21 3
G 21 4
G 22 5
G 22 6
G 22 7
G 23 5
G 3 6
G 3 7
G 3 8
G 3 8
G 31 1
G 31 2
G 31 3
G 31 4
G 32 0
G 32 6
G 32 7
G 32 8
G 32 9
G 33 1
G 33 2
G 33 4
G 33 6
G 34 0
G 34 9
G 4 0
G 4 9
G 40 1
G 40 2
G 41 2
G 41 3
G 41 4
G 41 5
G 42 0
G 42 7
G 42 8
G 42 9
G 43 1
G 43 2
G 44 3
G 44 4
G 44 5
G 45 0
G 45 9
G 46 6
G 46 7
G 46 8
G 5 0
G 5 8
G 51 1
G 51 2
G 51 3
G 51 4
G 52 1
G 52 2
G 52 3
G 52 4
G 53 5
G 53 6
G 53 7
G 60 5
G 61 1
G 61 2
G 61 3
G 61 4
G 62 6
G 62 7
G 63 0
G 64 1
G 64 2
G 66 1
G 67 2
G 67 3
G 67 4
G 69 6
G 69 7
G 69 9
G 71 5
G 71 8
G 72 0
G 72 7
G 72 8
G 72 9
G 73 1
G 73 2
G 73 3
G 73 4
G 73 5
G 74 2
G 74 3
G 74 4
G 75 0
G 75 9
G 76 0
G 76 7
G 76 8
G 77 5
G 77 6
G 78 1
G 78 2
G 78 3
G 78 4
G 81 1
G 81 2
G 81 3
G 81 4
G 81 5
G 81 6
G 82 1
G 82 2
G 82 3
G 82 4
G 82 5
G 83 0
G 83 8
G 83 9
G 84 0
G 84 7
G 84 8
G 84 9
KY1 1
KY1 2
KY1 3
KY10 2
KY10 3
KY11 2
KY11 4
KY11 8
KY12 7
KY12 8
KY12 9
KY14 6
KY14 7
KY15 4
KY15 5
KY15 7
KY2 5
KY2 6
KY2 6
KY3 9
KY3 0
KY4 0
KY4 8
KY4 9
KY4 9
KY5 0
KY6 1
KY6 3
KY6 1
KY7 4
KY7 5
KY7 6
KY7 5
KY8 1
KY8 4
KY8 4
KY9 1
ML1 2
ML1 3
ML1 4
ML10 6
ML11 0
ML11 9
ML2 0
ML3 6
ML3 7
ML3 8
ML3 7
ML4 2
ML5 1
ML6 0
ML6 6
ML6 8
ML7 4
ML8 4
ML8 4
ML9 3
PA1 1
PA1 2
PA1 3
PA1 3
PA13 4
PA14 5
PA14 6
PA15 1
PA15 2
PA15 3
PA15 4
PA16 0
PA16 7
PA16 8
PA16 9
PA19 1
PA2 0
PA2 6
PA2 7
PA2 8
PA2 9
PA2 6
PA23 7
PA23 8
PA3 2
PA3 3
PA3 4
PA3 2
PA4 0
PA4 8
PA4 9
PA4 0
PA5 0
PA5 8
PA5 9
PA5 9
PA6 7
PA7 5
PA8 7
PA8 7