Mixers, Camilizers, Mendes Army & More – You Need To Prove You're Capital's Best Fans 2018!
8 March 2018, 13:27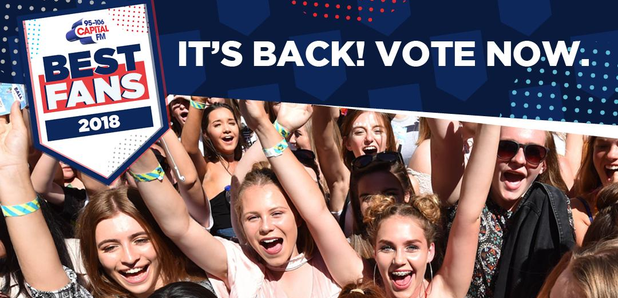 Best Fans is back for 2018 – are you in the most influential fan group? Here's what you need to do to decide who's the best!
We're on the hunt to find out which star has the BEST fans… do you think your fandom can cut it and be crowned Capital's Best Fans 2018?!
Your Definitive List Of The Hottest New Albums You NEED In Your Life In 2018
One Direction's #Directioners are the reigning champs for the past two years, having taken the crown from Lady Gaga's Little Monsters… but as the boys are all up as solo stars this year, it's all up for grabs!
We've shortlisted 31 stars' fan groups – so get tweeting your faves to make sure you get them to number one! You've only got until midnight on Saturday 17th March 2018 to vote… so what are you waiting for?!
5SOS #5SOSBestFans
Anne-Marie #AnneMarieBestFans
Ariana Grande #ArianaBestFans
Beyoncé #BeyonceBestFans
Bruno Mars #BrunoBestFans
Camila Cabello #CamilaBestFans
Charlie Puth #CharliePuthBestFans
Demi Lovato #DemiBestFans
Dua Lipa #DuaBestFans
Ed Sheeran #EdSheeranBestFans
Fifth Harmony #5HBestFans
Harry Styles #HarryBestFans
James Arthur #JamesArthurBestFans
Justin Bieber #JustinBestFans
Katy Perry #KatyBestFans
Lady Gaga #GagaBestFans
Liam Payne #LiamBestFans
Little Mix #LittleMixBestFans
Louis Tomlinson #LouisBestFans
Niall Horan #NiallBestFans
One Direction #OneDirectionBestFans
Rihanna #RihannaBestFans
Rita Ora #RitaBestFans
Sam Smith #SamSmithBestFans
Selena Gomez #SelenaBestFans
Shawn Mendes #ShawnBestFans
Stormzy #StormzyBestFans
Taylor Swift #TaylorBestFans
The Vamps #TheVampsBestFans
Zara Larsson #ZaraBestFans
Zayn Malik #ZaynBestFans
Voting closes at 23.59pm on Saturday 17th March 2018 and the winners will be revealed in Jimmy Hill's show from 7pm on Sunday 18th March 2018 so keep it Capital to see if your fave will win.
Just to be clear, don't put more than one hashtag in the same tweet.
Psst, the best part is... retweets count, you can @ each other and emojis don't affect a thing! It's time to show your colours, so what are you waiting for, go go go!
You may also like...