The Saturdays Talk To Max About Frankie's Baby Preparations - Video
13 October 2013, 19:31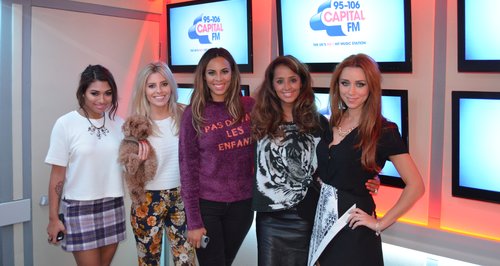 The girls reveal their bandmate has everything set up including a full wardrobe of clothes.
The Saturdays have been speaking to Capital's Max about their bandmate Frankie and the imminent arrival of her first baby.
The female star has been on maternity leave in the past weeks and Mollie told us that she has everything set up for her child – including a full wardrobe of clothes.
"The baby's bedroom's is totally set up ready. The cot's up. She's got really cute lamps in there. She's got a whole wardrobe for the baby," Mollie revealed. "All the clothes from 0-3 months."
Una also denied that Frankie had any plans on becoming a full-time mum.
"She really misses the band, like genuinely," she said, with Rochelle adding: "She's not a massive phone person, and I'm hearing from her so much."
Watch the girls speaking to Max about dogs, babies and more below:
The Saturdays release their new album 'Living For The Weekend' tomorrow (15th October) and their latest single 'Disco Love' is out now.
Meanwhile, bandmate Frankie Sandford was forced to take to Twitter this week to deny claims that she had already gone into labour.
She and fiancé Wayne Bridge are expecting their first baby together making Frankie the third mum of the group after Una and Rochelle.