Stormzy Launches #Merky Books & Announces His First Release 'Rise Up'
5 July 2018, 17:48 | Updated: 5 July 2018, 17:52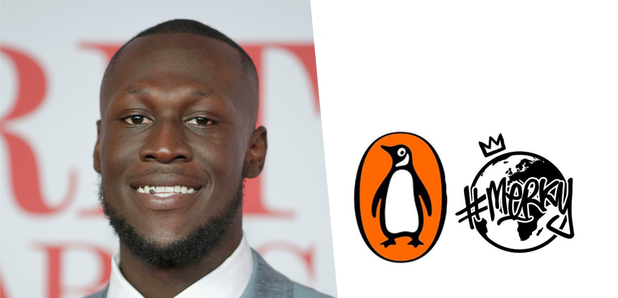 Stormzy's first book published on the new imprint will be his own book titled 'Rise Up'!
He's conquered the music world and is working on his second album, plus he even has his own festival in Ibiza, but now Stormzy is set to take over the world of literature.
The South London MC has joined forces with legendary publishers Penguin to create an imprint called #Merky Books and not only is he giving you the chance to work there, but you could also get your own book published too!
> Stormzy Shut Down An Instagram Troll Over His Attempt To Learn The Guitar
Penguin revealed the news via Twitter, where they wrote, "He's the voice of a generation. Now, Stormzy is releasing his own book, Rise Up, the launch title for a brand new publishing imprint, #Merky Books.'
He's the voice of a generation. Now, Stormzy is releasing his own book, Rise Up, the launch title for a brand new publishing imprint, #Merky Books. Find out more here: https://t.co/fiFjnHZU6H pic.twitter.com/ERhBx0dmWt

— Penguin Books UK (@PenguinUKBooks) July 5, 2018
Stormzy also revealed information on #Merky Books on Instagram where he posted a picture of the brand's logo alongside the Penguin logo and wrote, 'Super proud to announce our new venture #Merky Books, a publishing imprint in collaboration with Penguin Random House @penguinukbooks'.

'We will be using this as a platform for young writers to become published authors, I know too many talented writers that don't always have an outlet or a means to get their work seen and hopefully #Merky Books can now be a reference point for them to say "I can be an author" and for that to be a realistic and achievable goal.'

'Reading and writing as a kid was integral to where I am today and I from the bottom of my heart can not wait to hear your stories, your poems, your novels, your sci-fis and then getting them out into the big wide world. Proper proud of this! We'll be doing school competitions, taking entries and submissions and looking for writers as well but I'll keep you posted!'
He went on to add, '#Merky Books will also be offering a paid internship in 2019! The first book to be released under the imprint will be "Rise Up: The #Merky Journey So Far" out November 1st'.
So how can you get your book published by #Merky Books? How can you work for the business? Well we've got all the answers for you below...
How Can I Get My Book Published By #Merky Books?
According to the brand's website, '#Merky Books is not currently accepting unsolicited submissions. In 2019 we will announce details of an open submission competition for new works of fiction, non-fiction and poetry, with the winner receiving a publishing contract with #Merky Books.'
So whether you're the next JK Rowling or William Shakespeare, you could be a published author pretty soon!
How Can I Work For #Merky Books?
#Merky Books claim they will be offering a paid internship in 2019. The brand will be revealing exactly how you can apply for the internship via their newsletter, which you can access
here
.
What Is Stormzy's New Book 'Rise Up'?
According to #Merky Books, 'In three years Stormzy has risen from one of the most promising musician of his generation to a spokesperson for a generation. Rise Up is the story of how he got there. It's a story about faith and the ideas worth fighting for. It's about knowing where you're from, and where you're going. It's about following your dreams without compromising who you are.'
'Featuring hundreds of never-before-seen photographs, annotated lyrics and contributions from those closest to him, Rise Up is Stormzy's story, in his words, and the record of a journey unlike any other.'
It'll be released on 1st November 2018 and you can pre order a copy now.