Robin Thicke On Miley Cyrus VMAs Duet: "I Spent My Whole Career Playing It Safe!"
7 October 2013, 09:41 | Updated: 7 October 2013, 09:42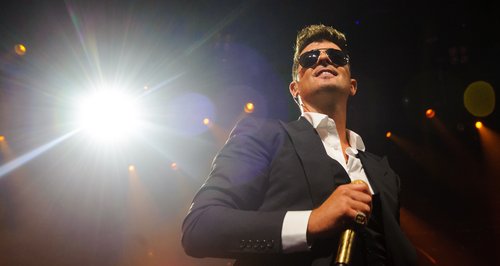 The US star says he wanted to give the people something they are "not ready for" with their duet.
Robin Thicke says he knew his and Miley Cyrus' VMAs 2013 performance would cause controversy, but says he was bored of "playing it safe" with his career.
The 'Blurred Lines' singer performed a raunchy duet with Miley at the awards show back in August, and says he just wanted to "entertain the people" by giving them something to remember.
"I spent my whole career playing it safe, being a gentleman, never doing anything controversial," Robin reveals in the latest issue of Vanity Fair. "They told be [before] that Miley's going to take her clothes off and dance around, and she might bend over!
"I just said, 'I don't care, let's entertain the people'," Robin explained. "Let's give them something they're not ready for. Let's make them talk."
Check out a picture of Robin Thicke performing live on stage at iTunes Festival 2013 below (Credit: iTunes):
The US star returned with his new album 'Blurred Lines' over the summer, and scored huge chart success with the record's titular team-up with Pharrell Williams and T.I.
Robin Thicke has just finished shooting a music video for Jessie J for their new collaboration 'Calling All Hearts'.