Robin Thicke's 'Blurred Lines' Video Parodied By US Boylesque Troupe Mod Carousel
24 July 2013, 14:33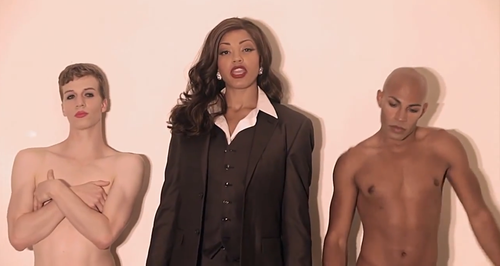 The US star's smash hit single has seen a gender transformation in the new online clip.
The music video to Robin Thicke's hit single 'Blurred Lines' has been parodided by an American Boylesque troupe called Mod Caroussel.
In the footage, the parts played by female models are swapped with men in skin-coloured underpants.
Three different females play the part of Robin in the footage – all sporting similar suits to the man himself in the original.
Speaking about the reason to release their own version of the video, the stars said: "It's our opinion that most attempts to show female objectification in the media by swapping the genders serve more to ridicule the male body than to highlight the extent to which women get objectified, and does everyone a disservice.
Check out the video below:
They added: "We made this video specifically to show a spectrum of sexuality as well as present both women and men in a positive light, one where objectifying men is more than alright and where women can be strong and sexy without negative repercussions."
Robin has previously hit out at negative criticism of the explicit content of the video and said it is "ridiculous" to suggest such things.
The video has also featured in another parody this week, with Bill Clinton's speeches being placed to sing-a-long with the words of the track.