Robbie Williams Kicks Off 'Take The Crown' Stadium Tour With Show In Dublin
15 June 2013, 10:16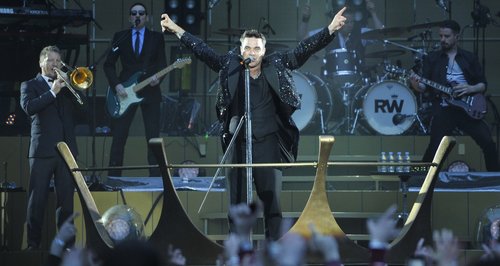 The 'Different' singer's set also boasted a surprise team-up with Olly Murs for 'Kids'.
Robbie Williams launched his 'Take The Crown' stadium tour in spectacular fashion last night (14th June) in Dublin at a show that saw the UK pop star bringing out all of his biggest and best hits in front of 65,000 screaming fans.
The 'Candy' singer arrived on stage at the Aviva Stadium on Friday evening from inside a giant 15 metre high cast of his own face, before zip-lining down to the stage to kick off the highly anticipated concert.
Among the lengthy setlist were all of his most popular tracks including 'Let Me Entertain You', 'Candy' and 'Rock DJ', and he even performed a duet with tour support Olly Murs of his Kylie Minogue team-up 'Kids'.
"Loved being KYLIE tonight @robbiewilliams not sure I have the same hot bum as hers lol YOU kicked some serious a**e out there tonight!!" Olly tweeted after the concert to show his thanks.
Robbie's 'Take The Crown' tour also made sure to slow things down for an acoustic section where he performed hits like 'Millennium' and 'Sexed Up', before wrapping up the show with an encore of his crowd-pleasers 'Feel', 'She's The One' and 'Angels'.
Check out a picture of Robbie Williams making his entrance to the gig below (Credit: Getty):
"I have loads of stuff going on in this show," Robbie promised, in an interview with The Sun this week. "When people leave the stadium I want them to leave happier than when they arrived.
"Not a lot of people have banter with the audience, I can deliver that," he explained. "There should be spontaneity and instant interaction.
"I want to be known for quality," Robbie added. "I want the show to be the best on earth at that particular moment with the fund and means available to us.
"I think we have managed that on this tour."
Robbie Williams will next take his 'Take The Crown' stadium tour to Manchester on Tuesday (18th June) for the first of 10 dates across the UK before heading on to shows in Europe.
Check out the full set list for Robbie's 'Take The Crown' tour below:
'Hey Wow Yeah Yeah'
'Let Me Entertain You'
'Monsoon'
'Not Like The Others'
'Minnie The Moocher'
'Kids'
'Sin Sin Sin'
'Bodies'
'Come Undone'
"Everything Changes'
'Strong'
'Gospel'
'Be A Boy'
'Millenium' (acoustic)
'Better Man' (acoustic)
'Sexed Up' (acoustic)
'Me & My Monkey'
'Candy'
'Hot Fudge/Rudebox'
'Rock DJ
'Feel'
'She's The One'
'Angels'