Rizzle Kicks Want To Collab With Little Mix – It's Meant To Be, Their Names Even RHYME!
2 August 2014, 07:00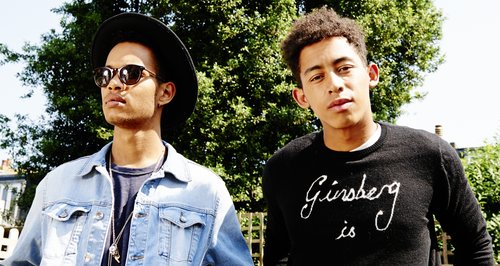 Rizzle Kicks tell us all about their dream collaboration, Harley's role in The Guvnors and the, ahem, interesting way he prepared for it...
A Rizzle Kicks and Little Mix collaboration would DEFINITELY be amazing – if not least for the fact that 'Rizzle Kicks feat Little Mix' is almost a tongue twister to say – and Jordan agrees!
The boys have recently released their new single, 'Tell Her' and are currently working on their forthcoming album.
They told us, "The new album is funky, it's a bit of a throwback and you will definitely be hearing some of it soon."
Jordan added, "I want to do a collaboration with Little Mix on it but I don't know if Perrie has forgiven me yet. It would just be awesome!"
But why would Perrie Edwards be mad at Jordan? Well… about a year ago Jordan may have called her upcoming wedding to One Direction's Zayn Malik a 'disaster waiting to happen'. Awk!
And both of the boys have been doing a spot of acting alongside the music – Jordan will be appearing in 'Glue' on E4 later in the year, and Harley is in The Guvnors film, released this month.
Jordan joked that they have some VERY specific acting aspirations in mind… "We're basically trying to position ourselves to make either House Party 3 or be black Bill and Ted."
Harley has also received a lot of praise for his role in the movie, and told us, "I didn't really know what people were going to think of it but the majority of people have said very nice things, which is good."
And how did Harley get into his VERY scary gang leader character? Jordan revealed, "Harley spent hours watching rappers in America who had done successful crossovers like DMX, 50 Cent and Mos Def. He'd also been watching a lot of Britney Spears Crossroads too."
Well, the rapper part makes sense, but we're not sure Britney's going to be much use!
You may also like…