Pitbull Has Not One, But TWO TV Shows In The Works. Yes, Really!
29 October 2014, 11:42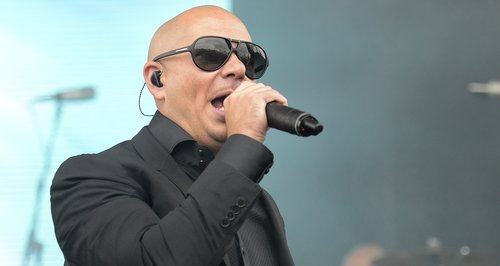 If you can't get enough of Mr Worldwide, you're in luck! The king of the capri pants is working on TWO TV shows about his life.
Prepare yourselves, people! You're about to get a whole lot more of Mr Worldwide, aka Pitbull!
The rapper and capri pant connoisseur has teamed up with The Weinstein Co to produce two unscripted series according to reports by the Hollywood Reporter.
His first venture, 'Pitbull: The Lyfe' (yes, that is 'life' with a 'y'. No, we don't know why.) will be a behind the scenes look at his life while he is on tour and in the recording studio.
The second show, 'The REAL Change Project' will see Pitbull teaming up with some huge public figures and entertainers inclusing Michelle Obama, Lady Gaga and Paul McCartney to look back at the mentors who inspired their own success. This show will also include special performances to raise money for teachers and educators internationally.
While neither shows have yet been picked up by a network, Harvey Weinstein said, "Partnering with Pitbull, one of the biggest names in music today, on 'The REAL Change Project' and 'The Lyfe' is a phenomenal opportunity that we're all very excited to get started on."
Pitbull also added, "It's an honor to partner with The Weinstein Company and Real Change Productions/Honey I'm Home on Lyfe and The REAL Change Project, two series with the point of view that life is what we make it — some follow the rules; others bend them. After the party kicks off 2015, we will show what's behind the curtain and most important, learning, listening from the best plays a huge role in the journey."
We can't wait to see what Pitbull's own reality show will feature!
You May Also Like…