Niall Horan & Hailee Steinfeld Dating Rumours: The Evidence
26 June 2018, 12:24
People had been speculating about a romance between these two for a while and the evidence is starting to really build up!
With rumours of Niall Horan and Haille Steinfeld's relationship being something a little more than just friends circulating on what feels like a daily basis atm, the pair were spotted together once again, this time at a Katy Perry show in Newcastle.
Hailee has been supporting Katy on her Witness Tour, so it wasn't that surprising to see her there, but Niall popping up to watch her perform has certianly added weight to the dating rumours.
> Niall Horan Is Praised By Fans For Speaking Openly About His Struggles With OCD
The pair were spotted by fans making their way into the show, but then a video emerged of Niall singing Hailee's own song to her backstage in the catering area.
The whole thing was thrust into the spotlight again recently after the pair were spotted on a night out in West Hollywood.
The two stars were seen out and about with each other at EP & LP, an eatery and bar in West Hollywood and according to People, a source revealed, "Niall had his arm around Hailee and they were holding hands".
Speaking about the rumoured couple's closeness on their night out, the cource added, "They definitely looked like a couple."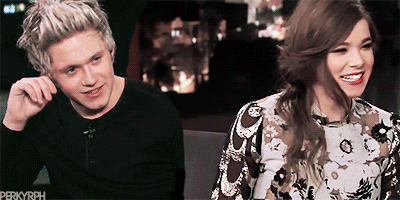 GIF: Giphy
Speaking to People previously, a source close to Hailee had claimed, "She's not actively pursuing anything. Niall is really into her but she's unsure if she wants to get into something new right away," after Hailee had split from her previous boyfriend.
The rumours have been swirling for what feels like forever, but it seems that Niall and Hailee may actually be more than friends, based on the video above of the pair kissing whilst on holiday in the Bahamas.
The footage of the pair was taken by people who were at the same venue as Niall and Hailee and they certainly look pretty close, with Niall putting is arm round Hailee and kissing her as they talk to people.
According to reports, onlookers claimed that the pair looked "really loved up". and went on to add, "They were chatting away for ages and then Niall put his arm around Hailee's neck and kissed her on the cheek."
This all comes after Hailee posted a pic on her Instagram wearing Niall's tour merch backstage at his show, whilst the 21 year old 'Starving' singer also joined Niall's support act Julia Michaels on stage during the Irishman's Flicker Tour.
Niall and Hailee were also spotted together at a Backstreet Boys concert in Las Vegas, which certainly got tongues wagging back in February, however this latest video is the tip of the iceberg.
February 17th: Niall singing I Want It That Way with AJ McLean at Backstreet Boys: Larger Than Life in Vegas (via @ninergrl6) (6) pic.twitter.com/EBL4jXl7ac

— Niall Horan News (@NJHNEWS) February 18, 2018
We're totally here for #Niallee, if they are an actual item. We love the pair of them so we deffo ship.
Oh and it looks like we finally know who filmed that footage too...

The couple also went Insta-offish on a mate's profile, leading fans to believe they might finally admit their relationship
Niall and Hailee please adopt me pic.twitter.com/b38LwB6g4g

— Clem (@louewts) May 27, 2018
We'll be keeping our eyes peeled for what happens next for these two!
> Download Our Free App For Loads More Niallee News!
Whilst you're here, check out Niall singing Camila Cabello's 'Crying In The Club'...