EXCLUSIVE: Naughty Boy Dishes ALL About Zayn Fall Out: "Me And Him Know Why We Fell Out"
7 October 2015, 22:40 | Updated: 7 October 2015, 22:57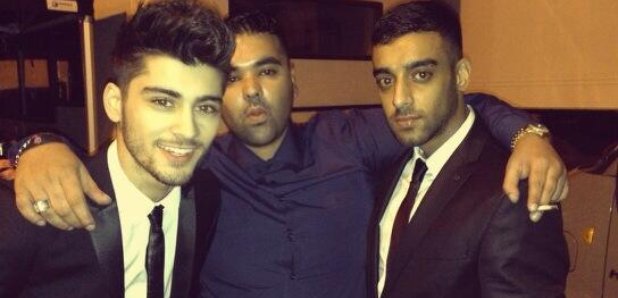 The 'Runnin' (Lose It All)' star chats to us all about what REALLY went down... and how he feels about it now.
Naughty Boy insists the world will NEVER know the real reason behind his fall out with Zayn Malik, while opening up EXCLUSIVELY to us about what happened between the pair.
The UK producer had a heavily publicised falling out with former One Direction star Zayn earlier this year, including some VERY public Twitter barbs from the ex-1D member, and he reflected on it all in our interview this week.
"I'd say I was hurt by it but at the same time there's been a whole transition from our friendship," Naughty Boy exclusively told Max. "The Twitter thing is neither here nor there because, you can let that affect you in a certain way or you don't have to. You're in control.
"That's not as important, but I think getting caught up in, I call in at circus, I was in the headlines not for what I do. This is what I do.
"At the same time it was difficult for him as much as it was difficult for me. He left the biggest boy band in the world and they obviously had their own history and their own reasons that I don't want to get into," he explained. "Being part of that, it was inevitably going to affect out friendship as well."

Naughty Boy insists that the real reason the pair fell out is something private, and that no one else knows the true reason because it will be kept between them.
"Me and him know why we fell out and that's going to remain between me and him but everything else, like that's just his way, call it immature or whatever, that's his way of dealing with the situation," he revealed. "I know him, so I'd rather not [say something negative].
"It's not about not having something negative to say about someone, because what's that going to do? What's that going to benefit?" he added. "I'm pretty sure he's out there making music and it's going to be sick anyway so."
And when it comes to a potential reconciliation between him and Zayn, Naughty Boy could be open to it, one day.
"I think eventually but I'm not in no rush," he finished with.
Naughty Boy is currently riding high on the Vodafone Big Top 40 chart with his new single 'Runnin' (Lose It All)' featuring Beyonce.
Keep it Capital Monday to Thursday from 10pm and Sundays from 7pm for Max's show on Capital.
You may also like...