"I Save That For My Boy": Meghan Trainor Says She Wont Be Getting Her Bum Out!
22 January 2015, 11:16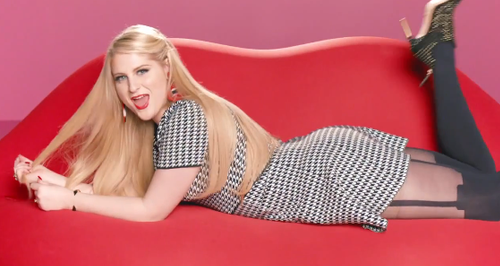 She may be most famous for a song about booty but Meghan Trainor won't be performing in skimpy hot pants anytime soon!
She's all about embracing your curves, but Meghan Trainor isn't planning on performing in any skimpy outfits anytime soon – she's saving that for her future boyfriend!
Meghan told the MailOnline why she won't be following in the footsteps of the likes of Miley Cyrus and Ariana Grande and their love of high cut leotards and super short hotpants.
"I was told that I started the booty song movement but no one knows what my booty looks like. That's the trick, it's all about the mystery. I save that for my boy. Well, for whoever gets to date me one day."
Meghan says she made sure her record label knew from the get-go that flashing the flesh wouldn't be an option. She added, "I told them you won't see me in a bathing suit. I love when Beyonce and all those girls wear those body suits but I don't like showing the vagina area. I don't like pointing it out, I don't know why. I like to keep that a secret for my future hubby."
"I did wear a little body suit in the All About That Bass video but I was so uncomfortable. They make you pose in a certain way so that you look the best you can but I was like, 'I can't breathe'. But then I looked bomb and I was like 'I get it, this was worth it'."
While she might not be rocking the skimpies herself, Meghan has no problem with other stars that choose to. She explained, "Everyone gives Ariana Grande crap now for being too sexy but I think she's classy with it and if you've got it then rock it."
"I know what I've got and I know which of my areas to rock, which I do, so I don't wanna bend over in a bathing suit on stage."
As well as keeping her body under wraps, Meghan recently teased that she had recorded a duet with Harry Styles – but was unsure when the world would get to hear it. She joked, "I think it would be amazing if I could do a track with each member of One Direction, that would be fun. I'm gonna propose that to them."
"I'm trying to feature on everything. Artists like Adele never feature on anything but I'm not Adele and I want to be able to feature on a country song with Blake Shelton and then do a pop song with Jason Derulo. Just watch!"
You May Also Like: