"It's A Beautiful Song": Meghan Trainor Confirms Harry Styles Duet On New Song!
20 January 2015, 10:52 | Updated: 20 January 2015, 11:08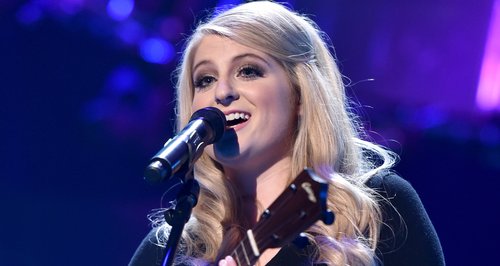 The 'All About That Bass' star has recorded a song with the One Direction hotty… on her ukulele!
We can't wait to hear what a Meghan Trainor and Harry Styles duet sounds like – especially now we know that it's accompanied by a ukulele!
Meghan confirmed the news about the song, called 'Someday Maybe', to The Sun, revealing, "It's real! It's a duet. It's a beautiful song we wrote together on my ukulele. We even recorded a rough demo together with our vocals together. It's a cute acoustic love thing."
Meghan seemed pretty excited about teaming up with the One Direction stars as she spoke about writing with him. "It's one of the first cool things I got to do with a pop star. A friend of mine said Harry was a fan and said he would love to write with me."
"He's an incredible writer, too. I was worried he'd just be a 20-year-old boy. So I walked in with a prepared verse and chorus. But he gave me very poetic, mature lyrics. I was like, 'Well, damn, Harry, you know what love is'."
It's uncertain when the world will get to hear their duet due to Harry's loyalties to One Direction. And given Harry's Casanova reputation, could there be a romance on the cards?
No, according to Meghan! She explained, "No, definitely not – we're good friends. But I adore all the One Direction boys. Every time I meet them I'm like, 'Hi, you're all perfect'."
"But they're One Direction. And I'm just a girl from Massachusetts. Plus, I can't date another pop star. They're all too busy."
You May Also Like: