McBusted Will Release An Album, Harry Judd Confirms
1 April 2014, 14:55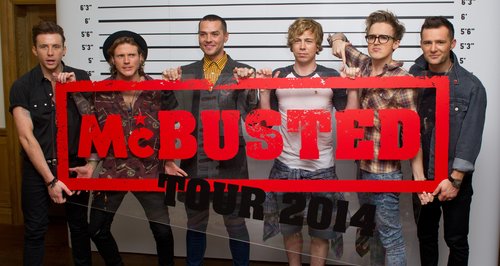 Drummer Harry Judd reveals McBusted will work on an album while on tour.
McBusted's Harry Judd has confirmed that the group will release a new album.
The drummer explained that the newly-formed McFly and Busted supergroup will work on the album during their UK arena tour, which kicks off later this month.
"We were thinking of going in the studio and properly laying something down before the tour started," Judd told Capital FM at Attitude's 20th birthday.
"We've had no time because of Tom having his baby, the tour rehearsals and Matt's filming bits on 'Eastenders'. Everyone has been so busy.
He continued: "It will happen after the tour. We'll be writing on the road and hopefully soon after the tour we'll get in the studio."
The star also revealed that the setlist for the McBusted tour is "sorted", adding: "Our first rehearsal took a while! We've got another couple of weeks until the first night so there's no rush.
"The plan is basically just to go nuts on stage. That's what we've done so far and it seems to work for us. We're not here to do something slow and dull. I imagine our album will be much the same thing!"
McBusted kick off their 35-date UK tour in Glasgow on April 17. The group will also support One Direction's upcoming stadium show in Paris in June.