Macklemore, One Direction And Lady Gaga Among YouTube Music Awards 2013 Nominations
22 October 2013, 10:57
Justin Bieber, Demi Lovato and PSY are also shortlisted for prizes at next month's ceremony.
The list of stars nominated for the first ever YouTube Music Awards have been released.
The Video Of The Year award will be a hotly contested category with the likes of Justin Bieber's 'Beauty And A Beat', Lady Gaga's 'Applause' and 'Same Love' by Macklemore & Ryan Lewis all fighting it out.
Other categories include Artist Of The Year, Response Of The Year and YouTube Phenomenan.
The event takes place on 3rd November in New York City, but will also feature filmed footage from cities around the world - including Seoul and London.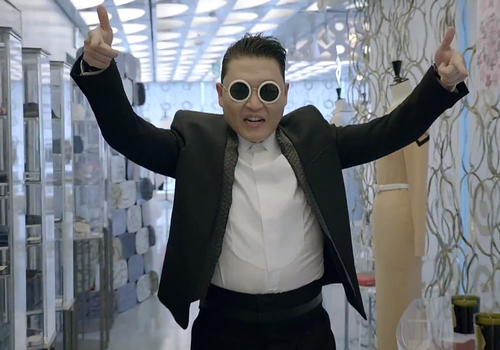 Check out the full list of nominations for the YouTube Music Awards 2013 below:
Video of the Year: (Nominees represent the videos with the most fan engagement on YouTube over the last year)
Epic Rap Battles Of History - Barack Obama vs Mitt Romney
Demi Lovato - Heart Attack
Girls' Generation ­- I Got A Boy
Justin Bieber (feat. Nicki Minaj) - Beauty And A Beat
Lady Gaga ­- Applause
Macklemore & Ryan Lewis (feat. Mary Lambert) - Same Love
Miley Cyrus ­ - We Can't Stop
One Direction ­- Best Song Ever
PSY ­- Gentleman
Selena Gomez ­- Come & Get It
Artist of the Year: (Focused on acts YouTube fans have made stars, nominees represent the most watched, shared, liked, and subscribed ­to artists)
Eminem
Epic Rap Battles
Justin Bieber
Katy Perry
Macklemore & Ryan Lewis
Nicki Minaj
One Direction
PSY
Rihanna
Taylor Swift
Response of the Year: (Best fan remix, parody or response video, these nominees represent the top 'unofficial' fan videos on YouTube based on views, shares and other social activity)
Boyce Avenue (feat. Fifth Harmony) ­- Mirrors
Jayesslee ­- Gangnam Style
Lindsey Stirling and Pentatonix ­- Radioactive
ThePianoGuys ­- Titanium / Pavane
Walk Off the Earth (feat. KRNFX) --I Knew You Were Trouble
YouTube Phenomenon: (Nominees are based on the phenomena that generated the most fan videos)
Diamonds
Gangnam Style
Harlem Shake
I Knew You Were Trouble
Thrift Shop
YouTube Breakthrough: (Focusing on breakout new acts, nominees represent the artists who experienced the biggest growth in views and subscribers)
Kendrick Lamar
Macklemore & Ryan Lewis
Naughty Boy
Passenger
Rudimental
Innovation of the Year: (Most creative and innovative music videos on YouTube)
Anamanaguchi ­- ENDLESS FANTASY
Atoms For Peace ­- Ingenue
Bat For Lashes ­- Lilies
DeStorm ­- See Me Standing
Toro Y Moi - Say That