Macklemore & Ryan Lewis Ready To "Hibernate" And Write New Album This Year
2 May 2014, 09:02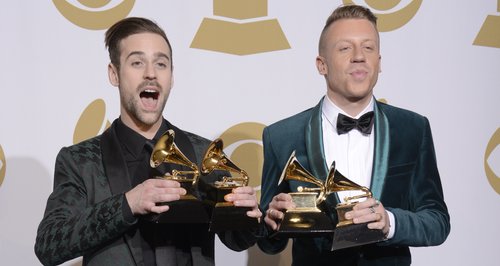 The duo admit touring commitments has meant they are yet to really get going on the follow up to the Grammy winning 'The Heist'.
Macklemore & Ryan Lewis are planning on spending the second half of 2014 working on their new album.
The record will be the follow up to their Grammy winning debut 'The Heist' and has been put on hold due to a busy touring schedule during the start of the year.
Explaining the delay in working on new music, Ryan Lewis told the Huffington Post. "I think everybody works differently.
"You look at a Kendrick Lamar who has an incredible ability to constantly be recording in all environments. I heard that he recorded 'Good Kid, m.A.A.d. City' almost entirely in a tour bus, which is nuts to me.
"For Ben and I, we just have a history of very much fully diving in and focusing on one aspect of what we're doing and trying to really put other things to the sidelines. If we're touring, we just don't have a good track record of jumping in and writing songs and going to various studios.
"Us being in the studio means that we meet in the morning and we leave in the morning," Lewis continued. "We do that seven days a week. That's what our season of making an album looks like. We are ready to hibernate and we have rough drafts and stuff that we're walking on and very excited about."
'The Heist' featured such singles as 'Thrift Shop, 'Can't Hold Us' and 'Same Love'.
You may also like...