Lorde Reveals The Artwork For Her Hunger Games Single 'Yellow Flicker Beat'
23 September 2014, 13:57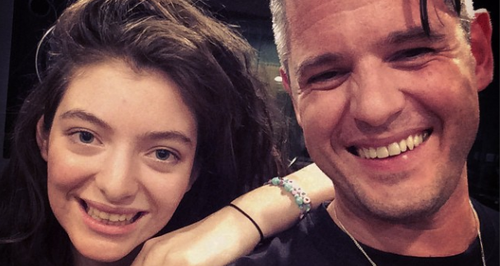 Lorde's revealed some more deets about her exciting collaboration with Adele's producer, Paul Epworth, for the Hunger Games.
It's great news for fans of The Hunger Games - Lorde has finally revealed the artwork, title and release date for 'Yellow Flicker Beat' from the soundtrack to The Hunger Games: Mockingjay.
The single will be released on 29th September and Lorde has worked with a VERY exciting name on the soundtrack. Yep, Lorde's been in the studio with Paul Epworth, who is the producer/genius behind a string of iconic songs, including Adele's 'Skyfall'.
Lorde and Paul have been working together on the track for the Hunger Games: Mockingjay soundtrack, and according to Billboard, Paul flew out to New Jersey for the two-day session.
The Grammy award winner posted a snap of himself with Lorde on Instagram, captioned, "Fun few days hanging out with this lovely lady and the crew from @lakehousestudios Asbury NJ."
The track the pair have recorded together will be used over the closing credits of the film when it hits cinemas in November.
This isn't the first time Lorde has featured on a Hunger Games soundtrack – she also recorded a cover of Tears For Fears' 'Everybody Wants To Rule The World' for a previous film.
Can they recreate the Grammy award winning magic of Skyfall together? We'll have to wait and see!
You May Also Like…