Sam Smith Just Accidentally Third-Wheeled Liam & Cheryl In The Weirdest Way
9 March 2018, 13:01
Sam Smith got more than he bargained for when Cheryl and Liam swamped his Instagram with comments!
It all started with Cheryl was having a casual insta-chat with BFF Sam Smith who shared a pic of himself chowing down on a burger from Californian chain In-N-Out whilst in the US.
She wrote: ''the best burger there is!'' and Sam replied: ''in the world'' and now we really want to try those burgers.
But things took an awkward turn when Liam couldn't resist making it a three-way convo and chimed in with a string of typical Payno comments.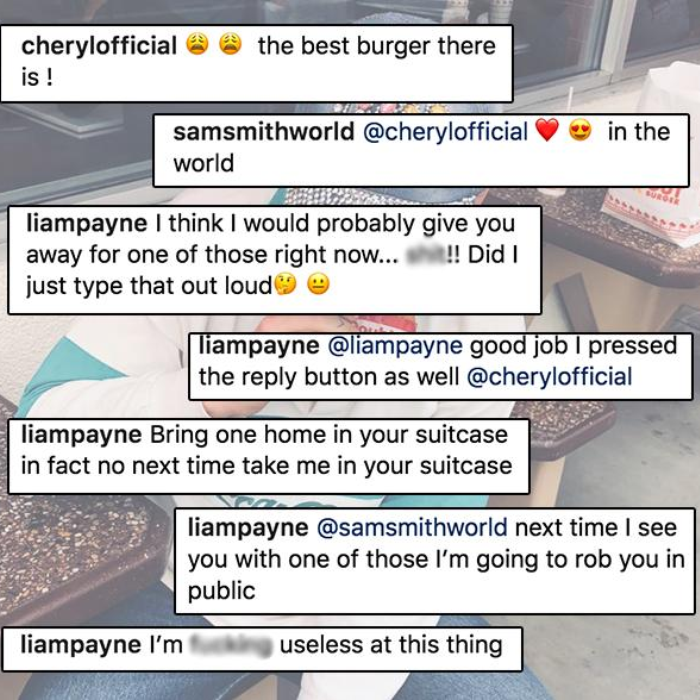 Whereas Sam graciously replied to Liam, Cheryl ducked out of the entire conversation.
The Strip That Down singer finished off his hilarious thread by telling Sam: ''Next time I see you with one of those I'm going to rob you in public.'' ...Maybe it's just his sense of humour? Oh Liam <3
However, he seemed to realise his jokes had fallen a little flat, writing: ''I'm f***ing useless at this thing.'' It's OK Liam, it's not like you have millions of followers that saw your girlfriend ignore you or anything. Awks.
Poor Sam, the guy just wanted to enjoy his burger and now he's third wheeling in a pretty serious way.
And maybe getting robbed by Liam?!
Watch Liam Payne talk about what him and Cheryl argue about here!