Liam Payne Clapped Back At A Fan Who Called Him Trash On Twitter
20 March 2018, 17:28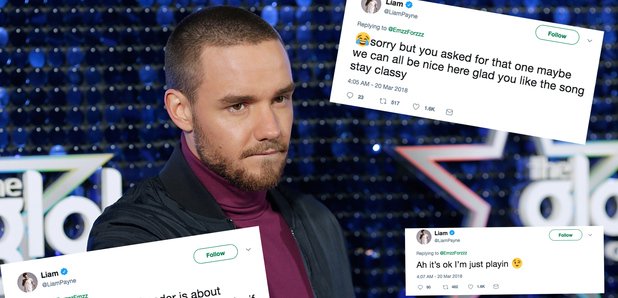 Liam Payne has hit back at a fan who called him 'trash' on Twitter and regretted it pretty quickly.
People love to tweet celebs, until they actually reply that is.
The Twittersphere kicked off for Liam Payne this afternoon as he lashed out at a troll who'd branded him 'trash' in a string of (unsurprisingly) since deleted tweets.
We Can't Get Over Prince Harry's Hilarious Reaction To Liam Payne's Performance
The 'Strip That Down' singer pointed out to user @EmzzForzzz that she doesn't exactly have the most saint-like social media page in what was a pretty brutal clapback.
You call me trash your header is about drinking and your second latest tweet asks if people pee in the shower? Should I go on

— Liam (@LiamPayne) 20 March 2018
People quickly jumped to his defence and congratulated him for handling the situation calmly, whilst others found the whole thing hilarious...
LOL And that's how you deal with haters. #LikeABoss Well played,Payno .

— Sign Of The Times (@HarryS1409) 20 March 2018
YESS MY BOY. PROUD OF YOU. I LOVE YOU LIAM

— HereFor1D (@VanshikRa) 20 March 2018
EMILY you have just been dragged by Liam Payne I'm dying hahahahahhahaha

— Natalie Bruce (@Natabrucex) 20 March 2018
Can this be a new thing where you roast us based on our account?!? Like an account rate kind of. I volunteer

— Donya 164 (@flickerxpetal) 20 March 2018
However, he quickly diffused the pretty heated situation and went on to say there were no hard feelings...
sorry but you asked for that one maybe we can all be nice here glad you like the song stay classy

— Liam (@LiamPayne) 20 March 2018
Ah it's ok I'm just playin

— Liam (@LiamPayne) 20 March 2018
The wrath of Liam has been felt.
Well, let that be a lesson people, the 1D boys DO see what you're writing to them, so in the words of Liam, stay classy!
Download Our New App For All The Latest News On Liam Here
Fancy watching Liam talk about 1D winning best fans?