Cheryl Just Broke Her Silence On Liam Cheating Rumours
30 March 2018, 20:29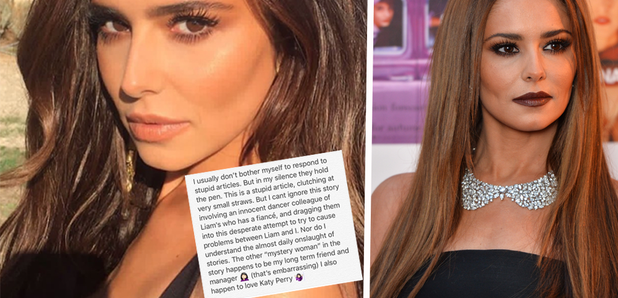 Cheryl took to Twitter to let people know what REALLY went down between Liam and his backing dancer in Dubai.
Cheryl has always been notoriously secret about her private life and relationships but it seems she has finally had enough, taking to Twitter to express her anger at the most recent accusations against her bf Liam Payne.
March 30, 2018
The singer finally cracked and totally shut down rumours of Liam being unfaithful. The latest rumours accused Liam of having a pretty intimate looking dinner in Dubai with one of his backing dancers, Chloe Ferns, who people pointed out looks very similar to Chezza.
It turns out the dinner was completely innocent and the woman in question is actually a long term friend of hers and is engaged and are both there as Liam is set to perform in a swanky penthouse bar.
But she didn't stop after that, following up the tweet by warning the media to not bother reporting on the shade she had just thrown, which as you can see was always going to be highly unlikely.
Oh and you can save yourselves from "Cheryl hits back" blah blah articles bc honeslty No.. one.. cares !

— Cheryl (@CherylOfficial) March 30, 2018
Come on now Chez, who doesn't love a bit of Twitter dramz?!
The reports continued to accuse the two of being in 'crisis talks' with the MailOnline reporting that Liam 'would whisk Cheryl and their one-year-old son Bear to a secret location next week in a bid to patch up their damaged partnership'.

Refusing to be beaten down by what are clearly false rumours, Cheryl finished off her Tweet tirade by shutting down the haters announcing her and Liam (and we hope Bear) are off on their holybobs.... jel.
Now.. off on our holiday. And the only thing we're making are memories. And breaking is our healthy eating toodles

— Cheryl (@CherylOfficial) March 30, 2018
We'd be lying if we said we aren't relieved and happy to see that all is well over in the new parent's camp!
Watch Liam talk about what him and Cheryl argue about