Liam Payne's Revealed The Secret Way He Hits Back At Haters On Instagram
23 April 2018, 17:08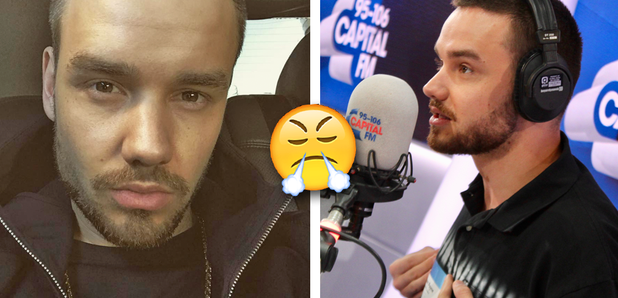 If you've ever sent hateful messages to Liam Payne, he's 100% replied to you, you just didn't know it until now!
Social media is often a beautiful beast. It's beautiful when it brings people together and helps people achieve greatness, but it can rear its ugly beast head when it's used to try and spread hate or bring someone down.
Liam Payne is a man who has seen both of those things happen and when it comes to haters, he has a novel way of dealing with them that might actually catch on!
> These Liam Payne Super Fans Took Promoting His New Single To The Next Level

Explaining his relationship with social media right now, Liam told us, "You've gotta be really clever with this thing these days cos it's such a little beastie, bless it. Depending on what you put out it just ends up in several different ways and I've had it from every angle."

Pic: Capital
Talking recent comments on his Instagram, Liam stated, "I've had some really good reactions to some different pictures I've put out and then for some other stuff that I've said I've got some really bad reactions aswell from different areas."
With his relationship with Cheryl and his young son Bear picking up even more press attention for Liam, he told us, "I've learnt a lot of patience this year and I'm thankful for the people around me for supporting me in that sense and making me realise that 'maybe that's not the right thing to do right now'."

Pic: Capital
"But I get it out in other ways. I have my notes on my phone and I just write down the most ridiculous replies to people and just get it out that way. I write it all down and I'm like 'well, done' and then only I know. I know I've got ya and if you go again I've still got ya, so it doesn't really matter, but like I say the best thing to do is laugh."
Writing replies in notes and then not actually posting them publicly but feeling like you have!? That actually sounds like a really great method tbh, although does that mean Liam's notes are just full of all the savage replies he never actually sent to haters?
Proving he doesn't take things too seriously, Liam added, "I take things with a pinch of salt. If you don't like it, that's ok sorry about that, didn't mean it, move on, it's gone the next day. But I think people dwell on these things and it's when you get into a little row or something with someone that it draws attention to it and there's just absolutely no point. There's so many different comments where I could say something a bit snazzy if I wanted to, but I'm like 'just hold out for it, it doesn't really matter at the end of the day'."
> Download Our Free App For Loads More Liam News!
Whilst you're here, check out what Liam had to say about his hopes for a One Direction reunion...