Kanye Revealed The Crazy Interior Of His And Kim's House And She Called Him Out For It
26 April 2018, 11:53
From 'an undecorated SIMS house' to 'looking like its built from paper mache', people couldn't handle the interior of Kim and Kanye's $60million mansion and Kim definitely wasn't pleased at the pics!
By now, basically everyone on the planet has heard about Kanye West's return to Twitter and ever since the rapper has been tweeting everything from philosophical quotes, to telling Donald Trump he loves him and showing off his signed 'Make America Great Again' cap.
> Kim Kardashian Hits Back At Split Rumours As Kanye Tries To 'Get Rid Of Everything'
He has now shared the first ever snaps from inside the power couple's mansion without Kim's permission, who is none too happy about it, and called him out on Twitter. He tweeted a series of snaps from his hallways and - we want to say dining room, but honestly, we can't actually tell what it is.
do this look like the sunken place pic.twitter.com/ixzKnaaaSy

— KANYE WEST (@kanyewest) April 25, 2018
April 25, 2018
Spot the actual marble statue they have chilling in their corridor?!
He and Kim have, up until now, decided not to show the inside of the $60million Hidden Hills mansion they have been renovating for years for security fears, with Kim permanently traumatised after the Paris robbery in October 2016, which she says gave her a phobia of going outdoors.
Ummm babe. We had a rule to not show our home on social media! Soooo can we now allow KUWTK filming in the home? https://t.co/bUMAn29K5K

— Kim Kardashian West (@KimKardashian) April 25, 2018
Kanye has always been notoriously private - only ever appearing very briefly on his wife's reality show KUWTK, banning his children from appearing on it and forbidding the film crew from entering his house, so we're not surprised Kim wanted to know just WTF he was thinking!
The famously stylish couple have spent millions of dollars and carefully picked bespoke furniture to pad out their mansion with, so people were pretty surprised when they saw the extremely minimalist 'unseasoned' interior.
Looks like your entire house is paper-mache mate.

— True Geordie (@TrueGeordieTG) April 25, 2018
Okay but why does Kanye's house looks like Patrick's house? pic.twitter.com/XalCzbfxtv

— HONEY (@keepit_xoxo) April 26, 2018
Kanye... my man... why is your house unseasoned... ? https://t.co/OanBqcmdDd

— MR.VALENTINES (@ykOsiris) April 26, 2018
Looks like a house on the Sims before you put wallpaper on. And filled it with likeable people.

— Mike Glover (@Like_Mike10) April 25, 2018
We are absolutely crying at the paper mache comment, cos' it's not untrue. But Ye', one bit of advice, consult your wife next time, yeah?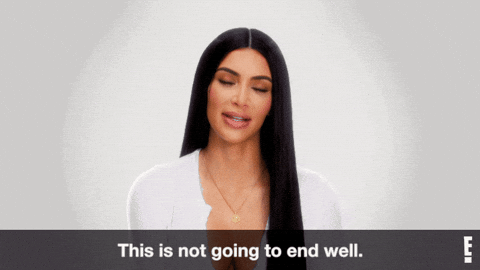 > Download Our Brand New Up To Keep Up With All The Latest Kardashian Drama
Why not watch Kim Kardashian explain the crazy make-up clause she has in her will...