So Kanye West Got On A Table At Nando's Ahead Of The #BRITs2015 For Selfies With Fans!
25 February 2015, 17:38 | Updated: 26 February 2015, 09:00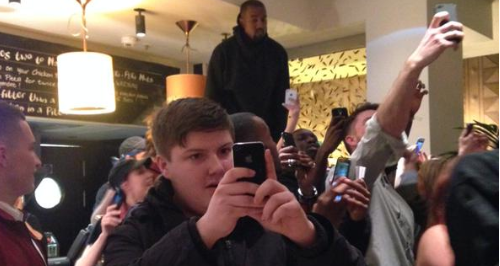 OF COURSE HE DID. Check out the AMAZING fan videos and pictures from Kanye's pre-BRITs chicken feast.
No trip out for a quick bit of delicious peri peri chicken is without controversy if you're Kanye West, and some lucky fans got more than they bargained for when Kanye walked into Nando's at London's O2 Arena ahead of the BRIT Awards this evening.
From reports on Twitter it seems Kanye stopped off for a pre-BRITs bit of dinner, and as word spread that he was in Nando's he ended up getting swarmed by adoring fans.
Being Kanye, he hopped onto a table and let the fans get selfies and videos with him - aww!
We trawled the internet and found some rather loo-some videos and excitable comments from the lucky few that managed to catch Kanye's chicken expedition in the flesh.
We do love a good Nando's but they DO serve food at the award, 'Ye!
SOOOO BASICALLY I JUST SAW KANYE GETTING A CHEEKY NANDOS pic.twitter.com/nuyi8KG3qX

— (@Queenrachh) February 25, 2015
No way did kanye west just come into nandos!!

— scarlett (@ScarlettRiz) February 25, 2015
JUST SEEN KANYE WEST IN NANDOS OH MY GODDDDD

— Karis Livingstone (@KLivingstone_) February 25, 2015
Lol imagine Kanye West just stood in the centre of Nandos and shouted 'whoever wants a mother f***king picture lets do it now'

— Hussain Manawer (@HussainsHouse) February 25, 2015
Here is my lame attempt of a Kanye West Groupie picture in Nandos pic.twitter.com/QG6XqP7aYS

— Hussain Manawer (@HussainsHouse) February 25, 2015
So @JordanLapper just sent me this picture of Kanye West in Nandos! So jealous! pic.twitter.com/bbb4iqnQfF

— Ben Worstencroft (@Ben_W_18) February 25, 2015
Lol some girls from my school went to Nandos in the O2 and saw Kanye West getting some chicken lol only because of the #BRITs2015

— Siân (@SianDamole) February 25, 2015
"@NandosUK: So, it turns out Kanye is much taller in real life.. pic.twitter.com/AB09GG1fo4" Yeezy and a cheeky Nandos, two of my favourites

— Ceezus (@Kruddy_C) February 25, 2015
Kanye bopped in nandos like pic.twitter.com/qIsPXRRAeN

— GottiOnEm #Wavey (@GottiOnEm) February 25, 2015

Eeeerrrrm hey Kanye......#nandos #BRITAwards #BRITs2015 #YeezusReturns #Yeezy pic.twitter.com/F2QnZuegeR

— Kimcé Lohan (@samphillips1986) February 25, 2015
Hey, Kanye! We LOVE a bit of chicken (side of halloumi and peri peri chips) - how bout you give us a call next time you're popping into Nando's and we'll come with!
Check out Kanye's post-chicken feast performance at the BRITs - but be warned that there may be some pretty bad language!

You May Also Like: