Fans Are Furious As Kanye West Ends Show Abruptly After Epic On-Stage Rant At Jay Z
21 November 2016, 12:48 | Updated: 21 November 2016, 12:53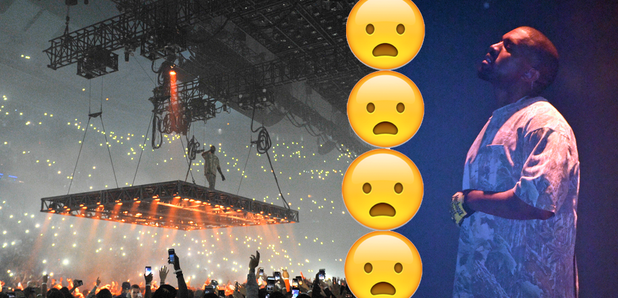 Fans made sure loud boos got their feelings across before they took to social media...
Kanye's Saint Pablo tour has been full of controversy.
He had to end one show early after finding out about Kim Kardashian's Paris robbery mid-performance and he recently angered fans in California by pausing his show for 40 minutes to talk politics and more.
But now Kanye has seriously annoyed another group of fans by ending his show in Sacramento after only a few songs and then cancelling his LA show the following night.
Picture: PA
Fans who had been at the show said that Kanye performed for 20 minutes before going into a ten minute rant and ending the gig. The rant included words aimed at Kanye's long-time friend Jay Z.
Kanye claimed recently that his kids had never played with Jay Z and Beyoncé's and that the two hadn't spoken for some time, making this new tirade all the more powerful.
Check out the video below and find out what Ye had to say about Jay...
Considering their close friendship and how the pair have grown together in the music industry, it seems really strange that they appear to have grown apart in recent times.
But fans didn't seem to care much about the whole situation and took to Twitter to share their thoughts via the hashtag #KanyeIsOverParty...
Lets clarify: HE IS OVER BECAUSE HE SHOWED UP 90 MINUTES LATE, PERFORMED 3 SONGS, MADE HIS FANS LISTEN TO A RANT AND LEFT. #KanyeIsOverParty

— Sam Abueldoleh (@Sammar_23) November 20, 2016
2004 Kanye wouldn't recognize 2016 Kanye #KanyeIsOverParty

— Mike Barry (@babyitsmb) November 20, 2016
#KanyeIsOverParty isnt about politics. It's about lack of respect for the people who paid 100s of dollars to watch a 39 year old have a rant

— Saffron (@Saffronkr28) November 20, 2016
Goodnight everyone except Kanye West

— Uma Kompton (@KomptonMusic) November 21, 2016
Imagine going to a Kanye West concert just to hear him rant for 3/4 of it. What a wasteman

— EA (@Chilla_Enoch) November 21, 2016
There are also reports that Kanye has cancelled all the rest of his upcoming Saint Pablo tour shows...
Just got word from a source that @kanyewest informed his crew that remaining dates of U.S. #SaintPabloTour are nixed.

— Gerrick D. Kennedy (@GerrickKennedy) November 21, 2016
No word on European dates that were planned for 2017.

— Gerrick D. Kennedy (@GerrickKennedy) November 21, 2016
So what is going on with Kanye right now?
You may also like...