Justin Timberlake Says 'N Sync Are Better Than One Direction
29 August 2013, 11:38
The 'Mirrors' singer speaks about the British boyband following the VMAs reunion with his old group.
Justin Timberlake has been speaking about his recent reunion with his 'N Sync bandmates and claimed that himself, JC Chasez, Joey Fatone, Lance Bass and Chris Kirkpatrick are better than One Direction.
The 'Cry Me A River' star and his former group were one of the biggest boybands of all time before splitting over ten years ago.
They performed a short medley during Justin's special set at the MTV VMAs 2013 this past weekend, and the singer said he enjoyed being back with his old crew.
"It was kinda like old times, but we were moving a lot slower," he told The Breakfast Club."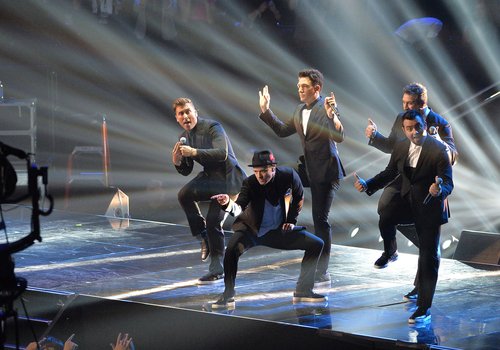 Asked what his thoughts were on the current biggest boyband in the world, One Direction, he said: "I have not seen them on stage, but I'd be willing to say that we're better than them.
He continued: "But I don't feel like I'm laying down any gauntlet. … I've seen them a couple times and I like those guys. It's interesting to see this whole wave of that come back around."
Meanwhile, the star has also been speaking about bumping into Kanye West at the event and clearing the air over an apparent feud between the pair.
He also refused to rule out the possibilities of a collaboration between the artists.