WATCH: Harry Styles Teased Fans With Taylor Swift Lyrics At His Live Show
20 March 2018, 16:55 | Updated: 21 March 2018, 13:18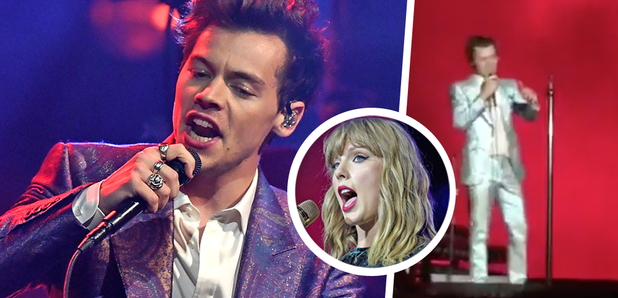 Haylor stans incoming.
Just picture it. You go to see your idol Harry Styles on his tour and he picks you out in the crowd cos it's your birthday and asks your name and age - we'd collapse in an instant tbh.
But that's exactly what happened to one fan during Harry's Copenhagen tour date recently and it turns out that the fan, named Thea, was turning 22 years old.
> Every One Direction Song EVER: Ranked
Many of you will probably sing Taylor Swift's catcy AF track '22' any time that number's mentioned and it turns out that that's exactly what Harry Styles does too!
Harry wishing a fan happy birthday tonight in Denmark #HarryStylesLiveOnTour #HarryStylesLiveOnTourCopenhagen pic.twitter.com/k5DITiGrz5

— Renni - Meeting Niall on april 27th (@MileyBieber1D) March 19, 2018
Check out the video above to see exactly what Harry's reaction is, but when Thea reveals that it was her birthday that day and that she was turning 22, Harry couldn't resist but begin the classic Taylor lyric, 'I don't know about you, but I'm feeling 22'.
Harry only gets through the first few words before stopping himself as fans clocked on to exactly what was happening. Harry and Taylor dated back in 2012/13 so it came as a big shock for fans when Harry began to utter those words.
"How old are you? 22? I don't know about you but.... okay" I'm not even ashamed to say that @Harry_Styles is the funniest person I know.

— scott loves harry (@harryauIait) March 20, 2018
@taylornation13 Harry Styles almost sang 22 tonight- give him a VIP package please

— Melissa (@wildeyesstyles) March 20, 2018
harry styles. singing 22. my goodness.

— a (@eloquentswift) March 20, 2018
Even Thea herself took to Twitter and revealed her excitement at Harry's chat...
So tonight I talked to @Harry_Styles. He wished me a happy birthday and told me he had a cat named tia once. And he made fun of me saying 22. Perfect night.

— Thea hald (@thea_haald) March 19, 2018
> Download Our Fancy New App For Loads More Harry Styles News!
Whilst you're here, check out Harry Styles' performance of new song 'Medicine'...