Harry Styles' Sweet Gift To The 'Happy Together' Cast Proves He's The Nicest Guy Ever
25 July 2018, 13:22 | Updated: 25 July 2018, 13:28
Harry Styles is the Executive Producer on new show 'Happy Together' and he gave the cast an epic gift whilst they were on set recently!
Harry Styles is embarking on his first ever job as an Executive Producer on new CBS show 'Happy Together' and the show's cast already love him.
Whilst we're sure the doy love him because he's just an awesome guy, but he's also arranged them the incredible present of their own entire ice cream van on set due to the hot weather - how we could do with one of those right now!
> WATCH: Harry Styles Helps Fan Come Out Live On Stage In The Best Way
Taking to Instagram, one of the 'Happy Together' cast shared a picture of the ice cream van, captioning the pic 'coolest executive producer ever. ty @harrystyles'.
UPDATE || Harry rented an ice cream truck for the crew of 'Happy Together'! pic.twitter.com/QGw5EwWhUY

— 1D Updates! (@OfficialWith1D) July 25, 2018
But Harry also left a message to the cast on the side of the van, writing, 'Thanks for all your hard work. Have a great show tonight! Love always, Harry x'. We don't think Harry Styles could be a nicer human tbh.
According to the show description, 'Happy Together follows Jake and Claire, a thirtysomething couple who are tired of their mundane life and start to reconnect with their younger, cooler selves when an emerging pop star, who is drawn to their super-normal suburban life, moves in'.
The show is based around real events in Harry Styles' life when he first went to America and stayed with fellow Executive Producer Ben Winston and his wife Meredith Winston.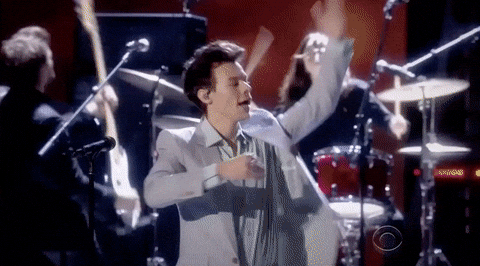 GIF: Giphy
Australian actor Felix Mallard is playing the role of popstar Cooper James, whose life is based on Harry and he previously tweeted his excitement at landing the role ...
SO HAPPY TO FINALLY ANNOUNCE OUR NEW SHOW @HAPPYTOGETHER IS GOING AHEAD WOOOOOOOOOOO @wayansjr @AmberoniStevens pic.twitter.com/H7IaB89grI

— Felix Mallard (@itsfelixwot) May 16, 2018
> Download Our Free App For All The Latest Harry Styles News!