Enrique Iglesias Is Funding A $200,000 Scholarship For A Latin Student To Go To College
24 March 2015, 12:06
We love it when stars give something back to the fans – and Enrique has teamed up with the Latin Grammy Cultural Foundation to provide a full scholarship to Berklee College of Music.
There's nothing nicer than when the stars who have made it big in their industry give something back to their fans and those less fortunate – and Enrique Iglesias has teamed up with the Latin Grammy Foundation to provide a full scholarship for one student to attend college.
Enrique has pledged $200,000 ($50,000 each year for a four year course) for one Latin student in financial need to attend Berklee College of Music – and hopefully provide the world with someone to follow in his footsteps!
The idea came about after Manolo Diaz, head of the Latin Grammy Foundation, approached Enrique to ask him to be involved with the organisation with a scholarship.
Enrique revealed that they chose to do a single full scholarship rather than several smaller ones, "I thought it was a great idea. We wanted to get them through the four years of college. We all know one thing is getting to college, and another is getting through college."
Enrique himself never studied music at college, but he did start a course in business at the University of Miami until he dropped out to focus on his music.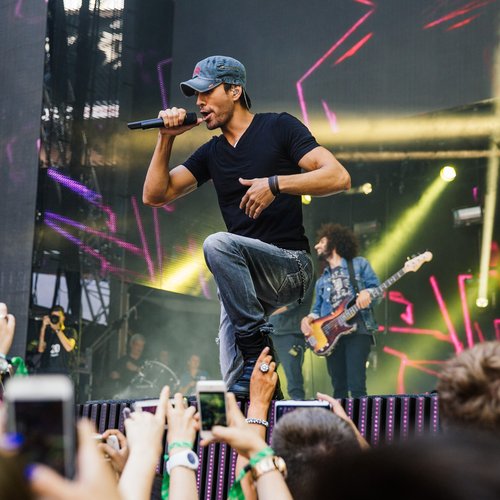 He admitted, "When I first started singing and songwriting, I didn't even think of going to a university that just had to do with music. It wasn't even on my radar."
But Mr Iglesias has since worked with several people in the industry who have studied music, and his producer pal Carlos Paucar sparked his interest in funding the course at Berklee.
He said, "My first question to him was, 'Was it worth it and was it good and would you do it all over again?' And he said yes, 100 percent."
And it's important for Enrique to support other Latin artists, as he has previously mentored Prince Royce and J Balvin, who he invites to support him on his tours.
He revealed, "I don't see it so much as, 'I'm helping another artist. What's important is that whoever we tour with is a Latin act. I think we need to promote Latin music."
"And even if we're going to markets where there are not that many Latin stations, or any Latin stations, you know the Latin community in this country is growing at a very rapid pace, and it's important to promote Latin music and more importantly, Latin acts."
"It helps them and it helps me. It gives me energy. It inspires me to watch artists like that, who are hungry."
You May Also Like: