Dua Lipa - 'Hotter Than Hell' (Live At The Summertime Ball 2017)
11 June 2017, 18:46
It got all kinds of steamy in Wembley Stadium as Dua made it 'Hotter Than Hell'!
It's the track that spent 11 weeks in the Big Top 40 top 10, and you guy were LOVING Dua's steamy performance of 'Hotter Than Hell' live at the Summertime Ball!
The multi-talented Dua Lipa is one of the freshest artists to come out of the UK, and she's been a firm figure in the charts since her debut back in 2015 – and with tracks like these, it's no wonder!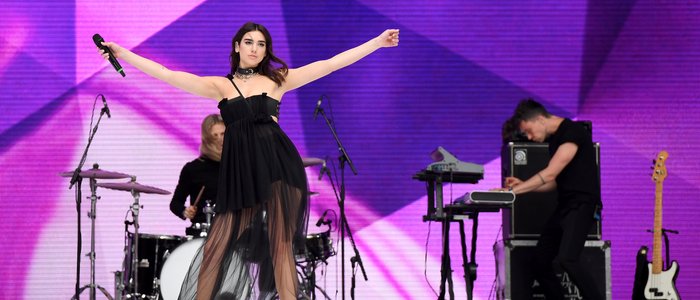 She got 80,000 hit music fans hot and sweaty with her turn on the stage – and you can relive her brilliant performance by clicking play on the video above.
Dua Lipa – Summertime Ball 2017 Setlist
Hotter Than Hell
Be The One
Scared To Be Lonely
Blow Your Mind (Mwah)
Dua Lipa 'Hotter Than Hell' Lyrics
He calls me the devil
I make him wanna sin
Every time I knock, he can't help but let me in
Must be homesick for the real
I'm the realest it gets
You probably still adore me
With my hands around your neck
Can you feel the warmth, yeah
'Cause my kiss goes down you like some sweet alcohol
Where I'm coming from, yeah
Is a darker side of me that makes you feel so numb
'Cause we're hot like hell
Does it burn when I'm not there?
When you're by yourself
Am I the answer to your prayers
I'm giving you the pleasure of heaven
And I'll give it to you
Hotter than hell
Hotter than hell
You're my manna from heaven
We all gotta get fed
Can't let me know I'm wanted
Can't let me in your head
I'm not here to make you kneel
But it's praise that I'll get
You ain't gonna walk free boy
Not finished with you yet, no
Can you feel the warmth, yeah
'Cause my kiss goes down you like some sweet alcohol
Where I'm coming from, yeah
Is a darker side of me that makes you feel so numb
'Cause we're hot like hell
Does it burn when I'm not there?
When you're by yourself
Am I the answer to your prayers
I'm giving you the pleasure of heaven
And I'll give it to you
Hotter than hell
Hotter than hell
When we go down right there
You make me feel right there
When you lay me down right there
We just make it right there
Cause you're looking so right there
Baby you should touch me right there
If you take me right there
We can make it
'Cause we're hot like hell
Does it burn when I'm not there?
When you're by yourself
Am I the answer to your prayers
I'm giving you the pleasure of heaven
And I'll give it to you
Hotter than hell
Hotter than hell
Hotter than hell
Hotter than hell
And I'll give it to you
Hotter than hell