DJ Khaled Bought His Son A Watch For His First Birthday & It's Worth More Than Your Entire Life Savings
25 October 2017, 14:03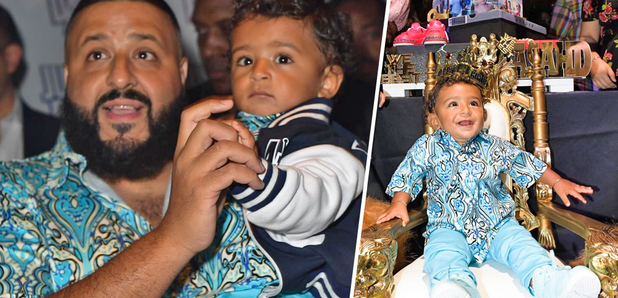 No, he can't tell the time.
When most people reach their first birthday, their parents get them a card and some nice little presents that they'll grow out of before they reach their next birthday.
For DJ Khaled's son Asahd, his first birthday was simply next level.
> Kim And Kanye's LA Mansion Was Burgled & On-Site Armed Security Were Forced To Intervene
Firstly there was the prized gift that the superstar producer gifted his young son - a $100,000 rose gold Frank Muller watch made by jeweller Haute Living that's engraved with Asahd's name & birthday on the back and features 11.65 carats of diamonds, but who's counting, right?
That's right - a one year old boy is now the proud owner of a watch worth more than your entire life savings and probabaly everything else you own combined.
Plus it's an adult sized watch so he can't even wear it for a good few years AND he can't even tell the time yet. Maybe we can borrow it until it fits?
Then there was the birthday celebrations. Plenty of huge celebrity names joined Asahd in the club, as you do for a music mogul's first birthday, whilst P Diddy was recruited for hosting duties.
Now let's talk about his birthday cake, because that was a monster. Covered in pictures of the youngster loving life, it was accompanied by a pair of cake Nike trainers and was at least three times bigger than Asahd himself. Good luck eating that lad.
Dj Khaled and his wife Nicole Tuck clearly spared no expense on the extravagant party and we're sure that when Asahd watches the footage back in a few years he'll appreciate being arguably the coolest kid we've ever seen.
> Download Our Fancy New App For Loads More Extravagant Fun!
Whilst you're here, remind yourself what a banger DJ Khaled's 'Wild Thoughts' is...